HSHS Sacred Heart Hospital names Father Klimek Healing Presence Award recipient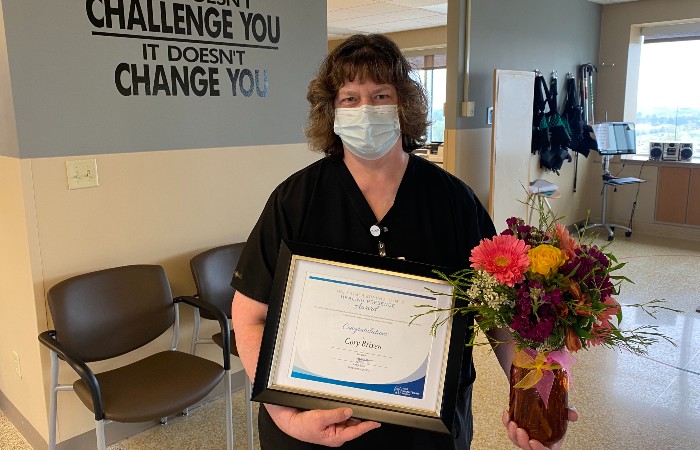 Eau Claire, Wis. – HSHS Sacred Heart Hospital has named Cory Brixen as the recipient of the 2022 Father Klimek Healing Presence Award. The award, which is the highest honor a colleague can receive at the hospital, was presented May 11, 2022.
Cory is a physical therapy aide on the hospital's rehabilitation floor, but she has also held positions with environmental services, nutrition services and patient transport.
During the award presentation, through tears, Cory said, "I'm so proud to work here; thank you all for thinking of me, I am truly honored."
In her nomination letter, fellow colleague Britney Olesiak says Cory embodies compassion, joy and care into her daily work.
"She brings treats to celebrate a co-worker's birthday or department celebration, organizes mission mentor activities, helps with local backpack drives, donates food items and so much more."
A second peer-nomination letter from Donna Stolp says, "Cory seems to just be in the right place at the right time, just as Father Klimek was."
Monsignor Edmund Klimek, whom the award is named after, passed away in 2013 after serving as the HSHS Sacred Heart Hospital chaplain for more than 45 years. Among his many accolades in the community and hospital, Monsignor Klimek established the pastoral care department at HSHS Sacred Heart Hospital in 1972. He was also the first hospital chaplain to receive the Catholic Health Association's "Lifetime Achievement Award" in 2013.
The Father Klimek Healing Presence Award was established in 2000 to recognize and carry on Monsignor Klimek's profound contribution to the Hospital Sisters' mission and his compassionate love of Christ.
###
About HSHS Sacred Heart Hospital
HSHS Sacred Heart Hospital is sponsored by Hospital Sisters Ministries, the Hospital Sisters of St. Francis is the Founding Institute, and it is an affiliate of Hospital Sisters Health System. Since 1889, it has been meeting patient needs in western Wisconsin with the latest medical innovations and technology, together with a Franciscan whole-person healing tradition.

About Hospital Sisters Health System
Hospital Sisters Health System's (HSHS) mission is to reveal and embody Christ's healing love for all people through our high quality, Franciscan health care ministry. HSHS provides state-of-the-art health care to our patients and is dedicated to serving all people, especially the most vulnerable, at each of our physician practices and 15 local hospitals in two states - Illinois (Breese, Decatur, Effingham, Greenville, Highland, Litchfield, O'Fallon, Shelbyville and Springfield) and Wisconsin (Chippewa Falls, Eau Claire, Oconto Falls, Sheboygan, and two in Green Bay). HSHS is sponsored by Hospital Sisters Ministries, and Hospital Sisters of St. Francis is the founding institute. For more information about HSHS, visit www.hshs.org. For more information about Hospital Sisters of St. Francis, visit www.hospitalsisters.org.
Media Contact
Karen Kraus
Communications Department HSHS Wisconsin