HSHS Sacred Heart Hospital recognized for excellence in stroke care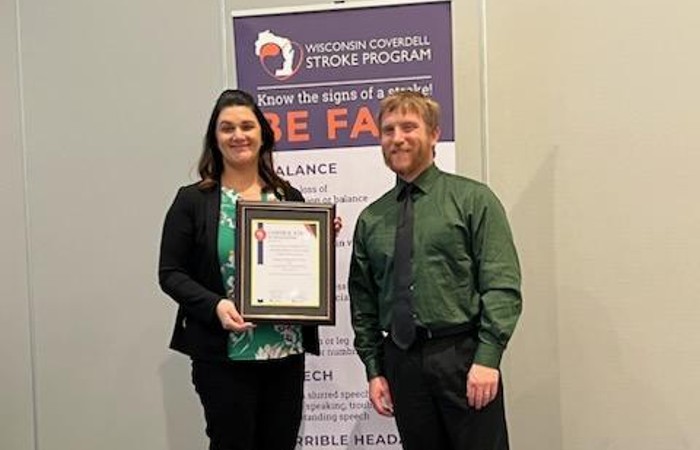 Eau Claire, Wis. – HSHS Sacred Heart Hospital is proud to have received two certificates for excellence in stroke care from the Wisconsin Department of Health Services' Coverdell Stroke Program.
HSHS Sacred Heart Hospital was selected to receive the 2022 awards over 81 other eligible Wisconsin Coverdell Champion Hospitals in the state.
In 2001, Congress charged the Centers for Disease Control and Prevention with implementing state-based registries that measure, track and improve the delivery and quality of stroke care. A national registry was established and named the Paul Coverdell National Acute Stroke Registry (PCNSR), after the late U.S. Senator who suffered a fatal stroke in 2000 while serving in Congress. The Wisconsin Coverdell Stroke Program is one of several state-based registries across the U.S. established as a result of the PCNSR.
The first Coverdell award presented to HSHS Sacred Heart Hospital recognizes the hospital's successful reduction in time between patient arrival and getting a crucial CAT scan (CT) when a patient is experiencing stroke symptoms. The CT procedure allows the stroke team to see detailed pictures of areas inside the body, in this case, the brain, where an active stroke may be occurring.
"Patients who arrive at a hospital soon after the first stroke symptoms appear have a better chance of successful recovery," says Annie Letkiewicz, HSHS Sacred Heart Hospital stroke program coordinator. "Our team is acutely aware of the need for expedited diagnosis, scans and treatment. We are excited the Coverdell program has recognized our commitment to rapid stroke care."
The second Coverdell award acknowledges HSHS Sacred Heart Hospital's expert stroke data tracking and reporting each quarter of 2022. This accuracy allows our hospital to continually streamline and improve upon efficiencies.
For information about signs and symptoms of a stroke, or to learn more about HSHS Sacred Heart Hospital's Primary Plus Stroke Center, visit: www.hshs.org/SacredHeart/Services/Stroke-Center
###
About HSHS Sacred Heart Hospital
HSHS Sacred Heart Hospital is sponsored by Hospital Sisters Ministries, the Hospital Sisters of St. Francis is the Founding Institute, and it is an affiliate of Hospital Sisters Health System. Since 1889, it has been meeting patient needs in western Wisconsin with the latest medical innovations and technology, together with a Franciscan whole-person healing tradition.

About Hospital Sisters Health System
Hospital Sisters Health System's (HSHS) mission is to reveal and embody Christ's healing love for all people through our high-quality, Franciscan health care ministry. HSHS provides state-of-the-art health care to our patients and is dedicated to serving all people, especially the most vulnerable, at each of our physician practices and 15 local hospitals in two states - Illinois (Breese, Decatur, Effingham, Greenville, Highland, Litchfield, O'Fallon, Shelbyville and Springfield) and Wisconsin (Chippewa Falls, Eau Claire, Oconto Falls, Sheboygan, and two in Green Bay). HSHS is sponsored by Hospital Sisters Ministries, and Hospital Sisters of St. Francis is the founding institute. For more information about HSHS, visit www.hshs.org. For more information about Hospital Sisters of St. Francis, visit www.hospitalsisters.org.
Media Contact
Karen Kraus
Communications Department HSHS Wisconsin