Koreen's story
Eight months into her pregnancy, Koreen Holmes and her husband, Nate were focusing on final doctor appointments and diapers. When Koreen was told she had breast cancer, their world turned from a vibrant color to black and white.
"It was life or death," said Koreen, who is just 32 years old. "Obviously I chose life which meant many months of cancer treatments and powerful medication."
The expectant mom delivered her baby early – on Jan. 28, 2021, and treatments at the Prevea Cancer Center at HSHS Sacred Heart Hospital in Eau Claire began six days later. She required infusion treatments every three weeks.
Despite the curveball thrown at the Holmes family, they remained positive, and Koreen's life-saving medications were working.
Then came July 1.
"We found out our insurance wasn't going to pay for the medication anymore because the company put a new policy in place that dictated where we had to get the medicine from – something called 'white bagging,'" said Nate.
This new insurance practice requires that certain medications be dispensed by a separate network of specialty pharmacies, often owned by the insurer. Medication is then mailed to the hospital and staff administer it to the patient, even though most of these medications are already on-hand at the hospital pharmacy.
Angela Quick, director of oncology at the cancer center, said receiving these expensive immunotherapy medications from a third party means her team - and every other hospital in Wisconsin - can't guarantee timeliness, efficacy or safety of the medicine.
"We can trace our own medications, be sure they're delivered on time and to the right place, control how they're mixed in our on-site pharmacy, be sure they are temperature controlled - basically, we know what we're giving patients," said Quick. "Under this new policy, we have no idea if it's safe and I'm not willing to administer those medications to a patient."
The couple spent two hours on the phone trying to connect with someone at their insurance company. They received no answers, and no explanation that made sense.
"We didn't have any idea what we were even supposed to ask for, yet the responsibility to figure it out was on us, as the insurance customer," said Nate disheartened. "Cancer is one of the worst things someone can be diagnosed with and then to make it more devastating because of these policies they're putting in place, it's not even humane."
Thinking back on that frustration still leaves Koreen with a pit in her stomach.
"I'm a cancer patient, I shouldn't have to be worrying about this," Koreen added. "This is my life and now I'm being told to put decisions about my health care, and where and how I get my expensive medication, into the hands of an insurance company - that's scary and frustrating."
Quick and her team were frustrated as well. Cancer center colleagues asked Nate to come into the facility one day in October. For six hours, Angela and Nate made phone call after phone call to the insurance company - pleading for them to continue paying for hospital-provided medication. The alternatives were terrifying.
"It was a fiasco," said Nate shaking his head. "There's no other way to put it. My wife had to either take a medicine that could be dangerous, at a new location we were unfamiliar with, or we'd have to pay thousands of dollars out of pocket."
It was never about the money the couple said nearly in unison.
"Immediately, in the back of your mind, you go to the financial burden that's about to set in," Nate said. "We talked at one point about filing bankruptcy or draining our savings so we could keep getting treatment with the people who had been taking such good care of us. Whatever we had to do would be worth it because it's Koreen's life, but insurance companies have no idea the ripple effect this has on peoples' lives."
After those six hours on the phone with Nate's insurance company, he called Koreen to tell her he and Angela had made no progress. Tears followed.
Twelve minutes before the close of business that day – while Nate and Koreen were speaking – Angela's desk phone rang. It was the insurance company. The next words Nate and Koreen heard were a shock. The insurance company approved 90 days of additional care with a safe, regulated hospital-provided medicine. More tears flowed, this time happy ones.
Ninety days isn't much, but it's just enough for Koreen to receive her final cancer treatment in January.
"It was a Godly miracle and blessing," she said.
The only reason the couple was level-headed and calm throughout the situation is because of the team at Prevea Health, according to Nate.
"To spend the time and resources they did on the phone, on hold, and being transferred to multiple departments while obviously there were other things they could have been tending to – it was a very humbling experience."
The Holmes' are now putting trust and faith in Wisconsin's legislature and Governor to take action by writing and passing a bill that will prevent all insurance carriers from practicing white bagging. In the meantime, Nate and Koreen have expressed interest in helping other families navigate this challenge with the insurance carriers choosing to practice white bagging.
"It has to stop for the sake of patients' lives," said Nate.
Less than two weeks after being granted a 90-day continuance of care, the Holmes' insurance provider notified the Prevea Cancer Center at HSHS Sacred Heart Hospital that a second continuance of care request for necessary follow-up treatments will be denied; no appeals will be entertained.
For more information about white bagging, or to help stop this dangerous practice click here: WHA - About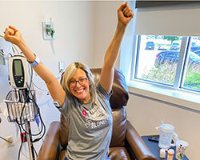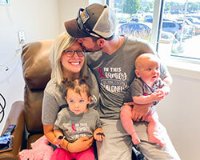 ;