Visitor Guidelines
Thank you for all that you do to keep our patients and colleagues safe. It is important to note that we have visitor restrictions in place for this very reason.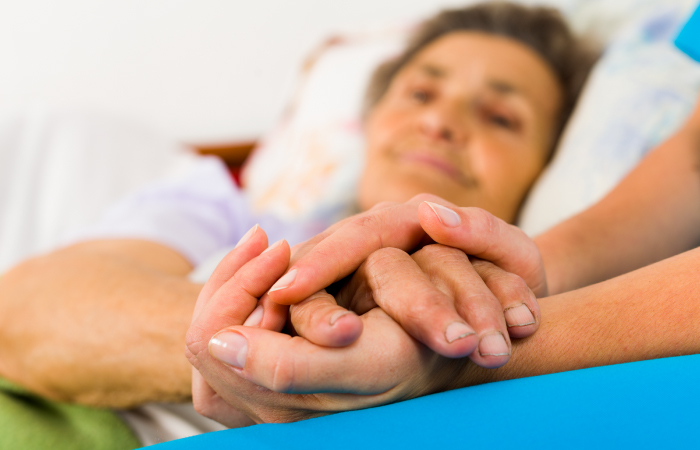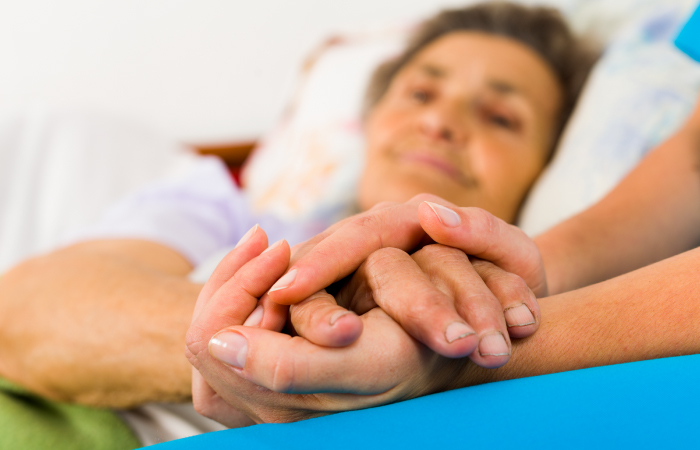 Important Information for Hospital Visitors
Ample parking is available at HSHS Sacred heart Hospital. Please park in the areas marked "Visitor Parking."
Family and friends are important for your healing process, and visits are encouraged. We ask that visitors respect the patient's need for care and rest. The length of your visit should be determined by how the patient is feeling. If you have cold, flu symptoms, are not feeling well, or have been recently exposed to a communicable disease, it is better to call the patient than visit. If you feel that it is necessary to visit the patient, please request a mask from the nurse or Patient Registration to wear at all times while you are in the hospital. Pagers are available in some departments for family members who want to leave an area but need to be in contact with colleague.

To enter the hospital after 8 p.m. visitors should use the Emergency Department entrance, on the front of the building facing Clairemont Ave.

Health care information belongs to the patient and needs to be managed by the patient. Any personal information about a patient's diagnosis and treatment must come from the patient's physician, and that information will only be given to someone other than the patient with proper authorization.
Please follow the following guidelines before you arrive at the hospital:
Stay home if you are not feeling well
Plan to bring food and beverages as needed, or plan to order room service from a patient room
Upon leaving the hospital, please:
Save any phone numbers you might need for getting updates on your loved one
Clean your hands before leaving the patient room
Be safe!
Visits from family and friends may be "good medicine" for you and your loved one, so we encourage guests.
However, we ask that visitors follow these guidelines while they're visiting:
No smoking anywhere on hospital grounds.
Wear shirts and shoes at all times.
Guests with colds, sore throats or any contagious diseases should check with the patient's nurse before visiting.
Maintain quiet behavior and avoid unnecessary noise.
Guests may be asked to leave the room during tests or treatments, or when the doctor or nurse needs to speak privately.
Thank you for your cooperation!
Please refrain from using tobacco products while you are on hospital grounds. As a leading provider of healthcare services, HSHS Sacred Heart Hospital is committed to providing a healthy environment for patients, visitors, physicians, volunteers and employees. We appreciate your cooperation with our request.
Now is the perfect time to start being smoke free. Here are some tools to help:
Visit the American Lung Association's free "Freedom from Smoking" individual online program at www.ffsonline.org.
Call the Wisconsin Tobacco Quit Line for professional counseling services at 1-800-QUIT-NOW (784-8669).
Guest trays are available if you wish to remain in the room with the hospital patient. If a guest tray is desired, please call Nutrition Services:
Choices may be made from the general menu.
The price of a guest tray is $6, which will be collected upon delivery.
Guest trays are available from 7 a.m.–6 p.m.
For more cafeteria and other food details, click here.
The chapel is located on the west end of hospital on the ground floor.

Mass times are posted outside of the Chapel. People of all faiths are welcome to our Chapel as a place for prayer and quiet reflection. The chapel is a gift we treasure, and we are pleased to share it with you. It symbolizes our belief that in all things God is present.
Any day is cause to celebrate, rejoice or remember someone in need of prayers and comfort. Our gift shop, located on the first floor of the hospital, offers a variety of unique items at affordable prices for that special someone or occasion, including:
beautiful flower arrangements
balloons
cards and more
Hours
8 a.m. – 5 p.m., Monday through Friday. Closed Saturday and Sunday
Order by phone:
715-717-4231
Please call to place an order or learn more. Free delivery for patients and staff.