Emergency & Trauma
When a sudden and serious illness or injury happens, you want the very best emergency care available as fast as you can get it.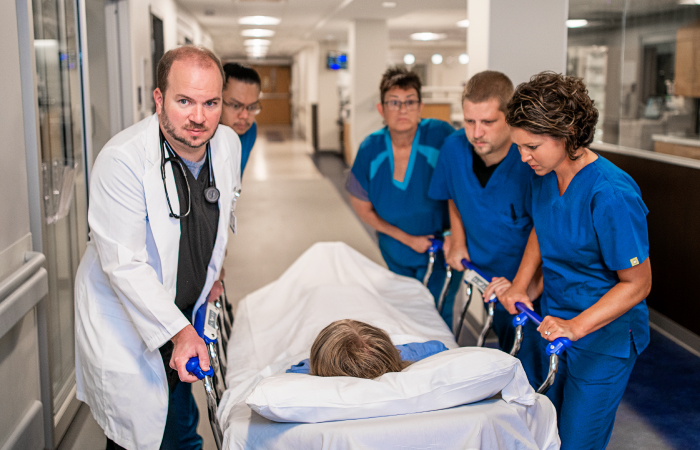 Trauma care
We are a Level III state-certified trauma center. This means we care for complex medical conditions, such as heart attacks and strokes, as well as simple but urgent conditions, such as cuts and injuries.
Technology
We are also equipped with sophisticated technologies that let our highly trained staff provide you with the care you need as quickly and efficiently as possible. This includes the only specialty care of its kind in the region for certain lifesaving heart attack and stroke treatments.
Fast
If your emergency is non-life threatening, the average time you'll wait to see a care provider is about 10 minutes. If you are experiencing a medical emergency, dial 911.
What You Need to Know
We're here to provide you with the emergency care you need 24 hours a day, seven days a week. Here are examples of emergencies that need our quick care:
Abdominal pain
Chest pain or pressure
Choking
Coughing
Deep cuts or severe burns
Difficulty breathing
Fainting, weakness or headache
Inability to move or speak
Major injuries or accidents
Nausea, vomiting or diarrhea
Poisoning
Sudden severe pain
Uncontrolled bleeding
We have two state-of-the-art cardiac catheterization labs, a fast process for getting patients from the emergency department to these special labs for care and specialty training for nurses in advanced cardiac life support.
HSHS Sacred Heart Hospital is the only hospital in the region to be certified by DNV as a Primary Plus Stroke Center, signifying our readiness to handle a full range of stroke-related medical problems.
We are the only hospital in the area that uses the MERCI Retrieval System, an instrument used to remove blood clots from patients experiencing a stroke.
We are also the only hospital to use the intra-arterial (IA) procedure: a fast way to deliver clot-busting medicine to the brain.
Additionally, we can administer thrombolytic therapy using a medication to break up clots.
If you or a loved one suddenly become ill or are involved in a serious accident, you want a team known for its skill and fast response. You'll find that team here at HSHS Sacred Heart Hospital.

Our professional team consists entirely of board-certified emergency medicine physicians. Our team also includes registered nurses with certifications in Advanced Cardiac Life Support (ACLS), Trauma Nurse Core Course (TNCC), Emergency Nursing Pediatric Care (ENPC) and Pediatric Advanced Life Support (PALS). We are the only hospital in western Wisconsin to provide such extensive training for its emergency department staff.

Additionally, our partnership with Prevea Health enables us to provide access to primary care and specialty providers for expert care throughout the Chippewa Valley.
A million things go through your mind when you are confronted with an emergency. Knowing a little bit about our emergency department and what to expect—before you need us—will help. Here are a few of the questions that we get asked most often.
What should I bring to my emergency department visit?
Be sure to bring your medications and dosages and most current medical history, if available. It is also helpful to bring emergency contact information, including medical power of attorney or health care guardianship information, if applicable. After your visit, it is important that you follow up with your primary care doctor, so please know who your primary doctor is, and which physician(s) should receive information from your visit.
What can I expect during my emergency department visit?
When you arrive, please check in at the Emergency Department registration desk and our staff will evaluate you to determine your condition. If your condition is life threatening, you will be seen immediately. You can expect testing and care from board-certified emergency physicians and specially trained registered nurses. If appropriate, you may be referred to a specialist or admitted to the hospital for further care and treatment.
Do you take care of children?
Yes, we provide care for all ages.
Do you take care of trauma patients?
Yes, we are a Level III state-certified trauma center with advanced neurosurgical capabilities.
For more information, call us at 715-717-4222.