Laboratory
The HSHS Sacred Heart Hospital Laboratory provides timely, cost-effective diagnostic pathology and laboratory services for hospital patients, outpatients and outreach patients in our community's physicians' offices.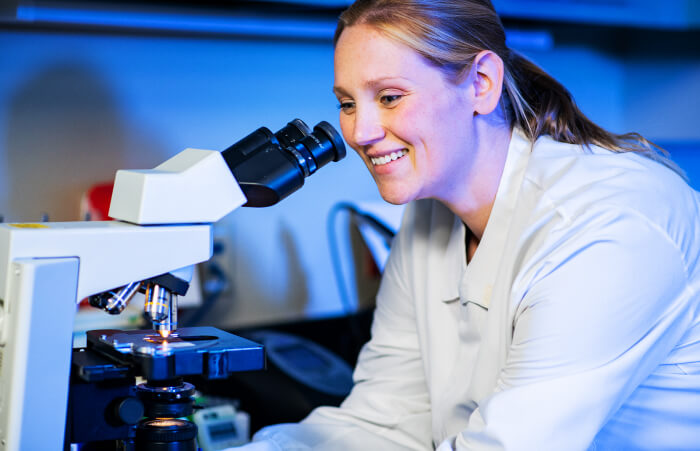 Our laboratory operates 24 hours a day, seven days a week to ensure your tests are processed in a fast, effective way. Our lab is certified by Clinical Laboratory Improvement Amendments (CLIA) to perform high complexity testing and we are accredited by:
College of American Pathologists (CAP)
The Joint Commission
The Outpatient Lab is where you come for a blood draw and other routine tests. The registration and waiting area is located in Radiology within the hospital. If you have any questions, call our laboratory staff 715-717-4232.
Schedule an Appointment for Your Lab Work:
Just log in and find "schedule an appointment" under menu. You'll need to choose the location, answer a few questions, select the day and time and then you're all set. No referral needed!
Don't have a MyHSHS account? No problem. It's easy to set up. Learn how now.
What You Need to Know
We perform more than 500,000 tests each year, including comprehensive services in:
chemistry
coagulation
hematology
immunology
microbiology
pathology
transfusion
urinalysis
What is the Clinical Lab Science Program?
This is a clinical practicum lasting 6-9 months that's completed at HSHS Sacred Heart Hospital through an affiliated university baccalaureate degree program in Medical Technology or Clinical Laboratory Science. HSHS Sacred Heart Hospital's Clinical Laboratory Science Program accepts students annually for the clinical practicum.
The practicum provides hands-on clinical laboratory experience, as well as education provided by laboratory professionals.
It seeks to instill students with professional attitudes, leadership skills, technical expertise and a dedication to the field of Clinical Laboratory Science.
The program begins the first week in September and continues through the end of May