Neuroscience Center
Excellence and innovation create the best opportunities for hope and healing.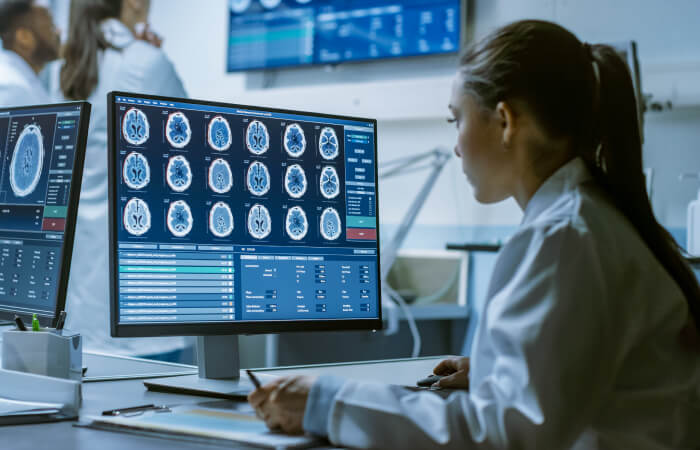 The Neuroscience Center is where patients recover from brain or spine surgery, as well as many other medical conditions involving the nervous system.
Our Stroke Center is part of the Neurosciences Center and it's making a major difference in the lives of people in our region:
We are the only hospital in the area to perform intra-arterial cerebral thrombolysis, a life-saving procedure that attacks blood clots in the brain.
We offer western Wisconsin's only use of the life-saving clot retrieval system. In emergency stroke cases, this technology provides hope when the window of opportunity for conventional drug therapy intervention has closed. For more information, call us at 715-717-4315.
What You Need to Know
Patients and families turn to us for help with a wide range of conditions focusing on the spine and brain. Our Neurosciences Center team, and everyone we partner with at Sacred Heart Hospital, strives to provide you with the expertise and resources you need to recover as smoothly as possible.
Specialized programs:
Certified Stroke Center
Rehabilitation Services including speech, occupational and physical therapists
Education classes and support groups, including Parkinson's and stroke
Screening programs
Additional services include:
Respiratory therapists
Registered dietitians
Pastoral care
Social workers
Our highly skilled team provides the most advanced level of care by partnering closely with other experts at Sacred Heart Hospital:
Our emergency department and radiology combine to enable our medical staff to rapidly evaluate patients using advanced neuro-imaging, which allows for better, faster, more comprehensive care.
Our rehabilitation services provide patients with specialized services like neuro-rehabilitation that improve a person's ability to restore greater use of mind and body. The therapies offered are part of why we're the only hospital in the region with a CARF-accredited inpatient rehabilitation facility.
Neurological and Spinal Surgery
If you are referred to the Neurosciences Center, your physicians will order one or more diagnostic tests to better analyze your condition and determine the best treatment options for you. The following are descriptions of some of the most common diagnostic tests that our surgeons use for evaluating patients.
Angiogram - A type of x-ray test that determines whether a blood vessel is diseased, narrowed, enlarged or blocked.
Carotid Ultrasound - A non-invasive test that evaluates the blood flow through the carotid arteries in your neck.
Cervical or Lumbar Myelograms - An x-ray examination of the neck or the lower back.
Computed Tomography (CT) - A two-dimensional computerized map of the body. The x-ray beams can detect the density of an organ or of the bones. This imaging can help to diagnose a variety of injuries and disorders. Our hospital is the only one in the region to offer Dual Source CT and intra-operative CT Smart OR®— both of which are the very latest advance in clinical CT technology.
Discogram - A study of the discs that are the cushions between the bones of the spine.
Magnetic Resonance Imaging (MRI) - This test uses a combination of a large magnet, radio frequencies and a computer to produce detailed images of organs and structures within the body. Our hospital offers 3.0 Tesla MRI and intra-operative MRI Smart OR®— the very latest advance in clinical MRI technology.
Brain Biopsy — a procedure used to detect tumors, infection or certain other diseases.
​Craniotomy — is a temporary surgical opening in part of the skull and is used to perform resections of brain lesions and treat hemorrhagic stroke when conservative measures fail.
Tumor Embolization — before surgery, some tumors need to undergo a procedure called embolization, in which large blood vessels supplying the tumor with blood are blocked off.
Ventriculoperitoneal Shunt — performed on patients who suffer from a condition where there is an excessive build-up of fluid in the cavities of the brain.
Anterior Cervical Discectomy and Fusion — performed to relieve the pressure on the spinal cord or nerves that occurs for various reasons such as herniated discs, narrowing of the spinal cord, nerve irritation, and spinal compression.
Anterior Lumbar Interbody Fusion — performed for those people suffering from chronic back or leg pain.
Anterior/Posterior Lumbar Fusion — primarily performed for people suffering irritation of the sciatic nerve.
Cervical Laminectomy — used to relieve pressure on one or more nerves in the neck.
Lumbar Laminectomy — used to relieve pressure on one or more nerves in the lower back.
Microdiscectomy — performed to remove herniated or bulging disc material through a small incision in the lower back.
Carpal Tunnel Release — performed when symptoms of carpal tunnel syndrome become so severe that they restrict daily activities.