Maternity onto Motherhood (MOM) Program
HSHS Sacred Heart Hospital in Eau Claire and HSHS St. Joseph's Hospital in Chippewa Falls partner to offer the Maternity onto Motherhood (MOM) Program.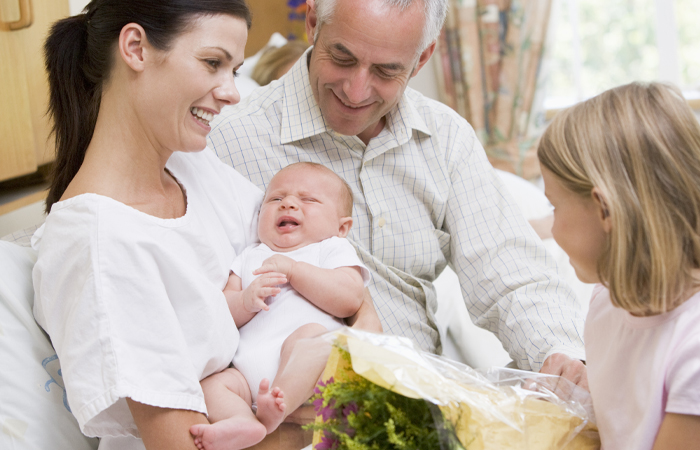 This program is designed to help you and your family navigate this time in your life — both as you get ready to welcome a new baby and after you go home from the hospital. The MOM program provides you with support before and after pregnancy and delivery at HSHS Sacred Heart Hospital in Eau Claire.
Whether you're a first time mom or adding to your family, you'll find the resources you need close to home so you can ease your mind, nurture your body and trust your heart.
We're here to help you always find joy in the journey of parenthood.
Call or e-mail us today: 715-717-7MOM (7666) or momprograminfo@hshs.org.
What You Need to Know
A Maternity onto Motherhood (MOM) Coordinator will contact you in your second trimester to get to know you and your unique needs. She will send you a packet of information that is tailored to you, and set up a visit in either Eau Claire or Chippewa Falls. If you'd like support before your second trimester, you may call or email us to get started sooner.

At this visit, you can start the hospital paperwork that is required for delivery and discuss what you'd like your birth plan to be. By completing paperwork and talking through your birth plan ahead of time, you will help speed up the hospital admission process and increase the focus and time you get to spend with your newest and tiniest family member. If your first visit is in Eau Claire, you can also tour the Women and Infants Center where you will deliver.

This visit also provides you the opportunity to talk with our knowledgeable MOM coordinator so you can learn about all the available resources in the area (educational, wellness and other support) that apply to your individual situation. Our goal is to help you be successful, confident parents.
Preparing to welcome your new bundle of joy is exciting, but it can also be overwhelming. We're here to help parents with trusted resources, support and services that are available to you, close to home.
Prenatal, childbirth and breastfeeding education classes
Pre-register for your hospital stay
Connection with local resources
Lactation (breastfeeding) services

Inpatient and outpatient lactation consults
Successful breastfeeding techniques
Breast and nipple problems
Combining breastfeeding with work or school
Pumping and storing breastmilk
Weaning your baby
And more

Lactation supply store
Breastfeeding support groups
Milk dispensary and depot
Car seat technicians and checks
Infant loss support
This is not my first baby. Is this for me?
Yes! Not only will you speed up the admissions process when you arrive at the hospital in labor, or for a scheduled C-section, but HSHS Sacred Heart Women and Infants Center is changing and evolving as new standards of practice are established. This is a convenient way to learn about updates since your last delivery. If you are not interested in the educational and supportive resources in the area, that is okay. Our goal is to customize your experience to your wishes and needs.
How do I get started?
Contact your OB provider to fill out a referral form. We will then call you.
Call 715-717-7MOM (7666) or
Email us at momprograminfo@hshs.org
Where will I deliver my baby?
HSHS Sacred Heart Hospital's Women and Infants Center, located in Eau Claire.
What if I am not planning on delivering at HSHS Sacred Heart Hospital?
You can still participate! We would be happy to work with you and connect you with educational, wellness or supportive resources in the community.
What about after I go home?
If desired, we'll continue to follow up with you after birth and for up to one year, to help connect you with services that you may want or need during any given time.
What resources can my MOM coordinator help me find?
Your MOM coordinator can help you before and after pregnancy with prenatal care coordination such as choosing a doctor for your baby, finding local wellness programs (pre- and post-natal massage, fitness offerings, etc.), connecting you with public health programs (WIC, Healthy Beginnings Programs, Nurse Family Partnership, etc.) and more.