HSHS welcomes new leaders to executive team
Hospital Sisters Health System (HSHS) is pleased to welcome new leaders to their executive team. Bonny Chen, MD, MBA, FACEP, CPHIMS, joins HSHS as the new chief health informatics officer. Frank Rademacher joins HSHS as system vice president and chief information officer.
Dr. Chen comes to HSHS from Ascension, where she most recently served as vice president and chief medical IS officer. Her first day with HSHS will be June 26, 2023.
Dr. Chen held leadership roles at Ascension, AdventHealth, and AMITA Health in Chicago, including chief medical officer and chief health information officer. Prior to her administrative roles, Dr. Chen served as an attending emergency medicine physician for nearly 20 years. Since 2013, she has also been an international surveyor for The Joint Commission, assisting hospitals worldwide in improving processes, patient safety and quality of care. Notably, Dr. Chen served as a subject matter expert in the development of health information technology Joint Commission International accreditation standards.
She received her Bachelor of Science and Doctor of Medicine from the University of Michigan Inteflex 7-year integrated premedical-medical program. She completed her Transitional Residency at the University of Hawaii and her Emergency Medicine Residency at the Cook County Emergency Medicine program in Chicago, Illinois. She earned her Master of Business Administration from the University of Massachusetts Amherst Isenberg School of Management. Dr. Chen holds board certifications in Clinical Informatics and Emergency Medicine.
Frank Rademacher joins HSHS as system vice president and chief information officer. His first day with HSHS will be July 3, 2023.
Frank comes to HSHS from Trinity Health in Livonia, Michigan, where he most recently served as vice president of Trinity Information Services. He held multiple leadership roles in his 15 years at Trinity Health where he was responsible for 10 direct reports include regional CIO's, CIO's and information services directors, and a staff of 525 colleagues supporting technology infrastructure, applications, digital health, mergers and acquisitions and integration. His scope of responsibility included 90+ hospitals, 4 regional hospital systems, 40+ Home Care and Hospice, 50+ Continuing Care Facilities, and 14 PACE Centers.
Frank earned a Bachelor of Arts degree in Telecommunications Management from Michigan State University, as well as Executive Education from the Wharton Business School at the University of Pennsylvania. He also holds Project Management Professional (PMP) certification from the Project Management Institute and a Master of Science degree in Information Assurance from Walsh College.
"We take pride in finding exceptional leaders who relentlessly pursue our mission to provide high-quality Franciscan health care to all people," says Damond Boatwright, president and chief executive officer of HSHS. "Dr. Chen and Frank are excellent additions to our team."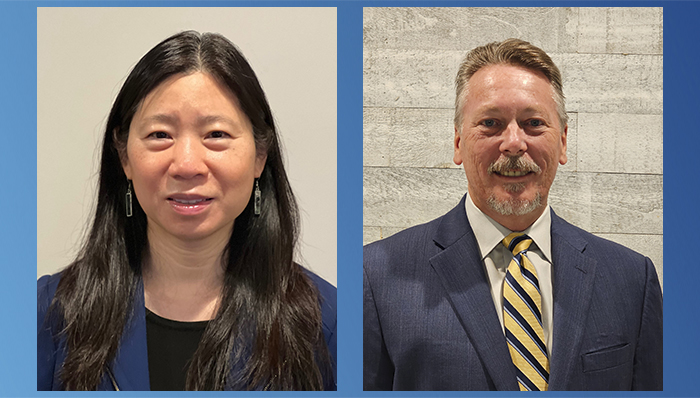 Media Contact
Kelly Barbeau
HSHS Illinois Marketing & Communications Director