HSHS Medical Group Announces 2022 Annual CARE Award winners
HSHS Medical Group is proud to announce its 2022 Annual CARE Award winners! Established in July 2016, the CARE Awards recognize colleagues who live the Mission, Values and customer CARE Standards of HSHS Medical Group. The award recipients were Mallory Rinderer, APRN, provider of the year; Amanda Visinia, LPN, colleague of the year; and Jen Derickson, manager of the year.
"We're proud of the many physicians, providers, colleagues and leaders who make our organization a wonderful place to work," says Penny McCarty, vice president of human resources at HSHS Medical Group. "Mallory, Amanda and Jen are exceptional colleagues who bring so much joy to the HSHS family. They genuinely care for patients and colleagues, and it shows in every encounter every day."
Mallory Rinderer, APRN, Provider of the Year
Mallory is a family nurse practitioner at HSHS Medical Group Family & Internal Medicine in Highland. A colleague nominated Mallory for a CARE award saying, "Mallory always makes patients feel they are important and genuinely listens to their concerns at each visit. She will call patients with results, which shows she truly cares. Patients are drawn to her, and she is always smiling and happy. Mallory is one of the best nurse practitioners I have worked with. She gives each patient the time they need and makes sure their concerns are addressed. I constantly have patients tell me how thankful they are to have found Mallory."
Amanda Visinia, LPN, Colleague of the Year
Amanda is a LPN at HSHS Medical Group Occupational Health in Decatur. Amanda's nominator said, "Since her joining, she has been an exceptional colleague, coworker and nurse. She is reliable and has such a refreshing positive attitude even when things are hectic at our busy occupational site. During the last few months, our clinic has been short-staffed, and she always arrived with a smile, ready to do what it takes to make our clinic successful. She has volunteered to work extra shifts, take call and take shifts in the evenings to help cover while people are off. She demonstrates patience and kindness to her patients and coworkers."
Jen Derickson, Manager of the Year
Jen is the manager of the Patient Access Center and Referral Center in O'Fallon. Jen was nominated for manager of the year by colleagues who report to her. One nominator said, "She shows appreciation for our hard work and keeps us motivated. She is quick to respond to any challenges that arise in our office. She expresses gratitude for a job well done when one of our team members goes above and beyond what is asked of them."
HSHS Mission
"To reveal and embody Christ's healing love for all people through our high-quality Franciscan health care ministry."
HSHS Core Values
· Respect
· Care
· Competence
· Joy
C.A.R.E. Criteria
· Connect – Connect with the patient through your eyes, body language and voice.
· Appreciate – Communicate a sincere appreciation to the patient for choosing HSHS Medical Group.
· Respond – Respond with empathy to the needs of our patients.
· Express – Express a positive attitude in all you say and do.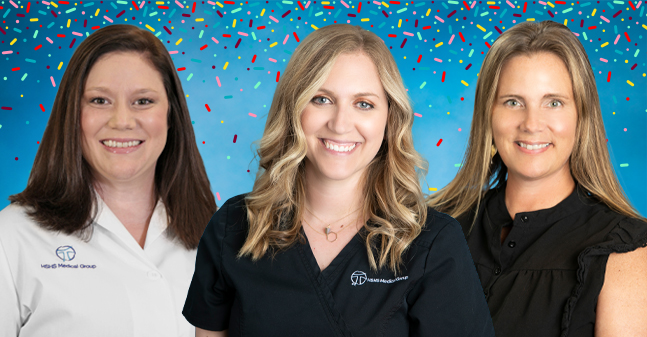 Media Contact
Lori Harlan
Divisional Director of Marketing, HSHS Medical Group