Intensive Care Unit (ICU)
Specialized life-saving care. The Intensive Care Unit is for patients who require very close observation and intensive nursing care around-the-clock.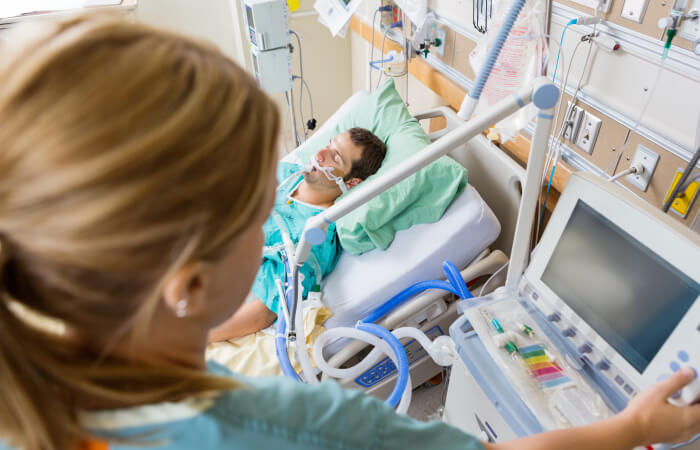 Our health care professionals are highly trained to provide around-the-clock intensive monitoring and treatment of patients. We understand that when a loved one is admitted to ICU he/she is not the only one affected.
More information about the ICU
A hospital chaplain is on call to provide comfort and support to patients and family members. Please let us know if you want us to contact a clergy member or chaplain on your behalf.
Meals and snacks are available in the hospital cafeteria, located on the ground floor. For a modest fee, you may also order from the patient menu, anytime between 6:00 a.m. and 6:00 p.m.
To help us comply with HIPAA (privacy) regulations, we respect and encourage the patient's right of confidentiality. For these reasons, we will only share patient information with the patient's spokesperson. The spokesperson is an individual appointed by the family or the patient to receive and give updated information on the patient's status to others. The spokesperson will only receive information when he/she identifies him/ herself with the "Spokesperson Number" that was given upon the patient's admission to Critical Care. Other family members and friends are asked to contact the spokesperson for information about the patient. We will notify the spokesperson of changes in the patient's condition.
Family members' well-being is an essential part of the healing process. We encourage family members to stay active with daily activities. Talking time to eat regular meals, exercise, and get enough sleep will help you feel better and make you more helpful in your loved one's recovery. Family members are encouraged to leave the hospital at night so that the patient and family member can rest. Our highly specialized staff closely monitor patients at all times in this unit. However, if you do not feel comfortable leaving the hospital we can make you comfortable in our family conference room.
The ICU staff believes in flexible visiting hours, and will work with families to arrange times that will help facilitate healing without interfering with a patient's care.
In addition, when a patient is resting, requests no visitors, or when the health care team is providing care, visiting may be restricted.
Please perform hand hygiene before and after visiting your loved one (use alcohol hand gel or soap and water).
The number of visitors and length of visits may be limited to immediate family members or significant others.
Children 10 years and older are permitted to visit.
No more than two visitors at a time can be in the room. Please understand other patients' visiting arrangements may differ from your loved one.
Stop at the Nurses' station and identify yourself when you arrive and when you call the unit.
When a patient's door and curtain is closed, a health care professional is attending to the patient; please do not enter the room.
More Intensive Care
Medical Surgical Intensive Care Unit (ICU)
Neonatal Intensive Care Unit (NICU)
Pediatric Intensive Care Unit (PICU)