Imaging
Our radiologists at HSHS Good Shepherd Hospital blend the latest radiological technology with the highest standard of patient care to get fast and accurate results.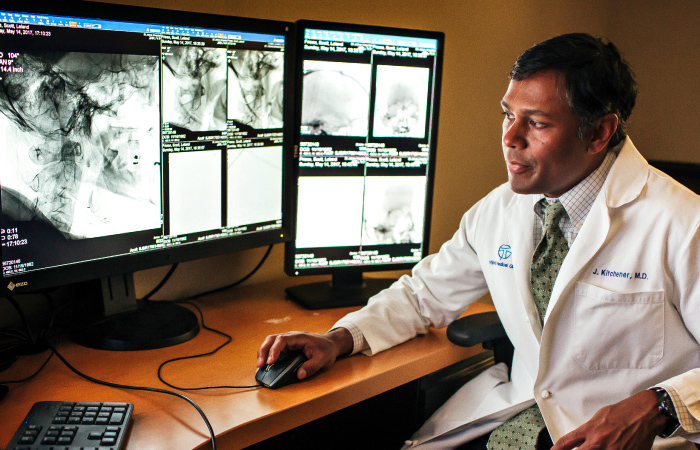 Imaging Services at HSHS Good Shepherd Hospital
Whether an injury is keeping you from your favorite hobby, you are expecting an addition to your family, or need an annual screening, HSHS Good Shepherd Hospital will be by your side with state-of-the-art imaging services that allow you to focus on the life you love. With 100% digital equipment and board-certified radiologists to review results quickly, there's no reason to leave your community for the very best in care.
While many outpatient procedures can be performed on a "walk in" basis, there are some exams that require a fasting period prior to the test and a radiologist be present for the exam. For this reason, it is always best to call the Imaging Department at (217) 774-3961, ext. 5171 to find out if an appointment is needed.
Don't forget to schedule your annual mammogram.
Please note all radiology exams require a written or phoned-in order from your physician.
Imaging procedures
Osteoporosis is a disease in which bones become fragile and are more likely to break. If not prevented or if left untreated, osteoporosis can progress painlessly until a bone breaks. These broken bones, also known as fractures, occur typically in the hip, spine and wrist.
According to the National Osteoporosis Foundation, osteoporosis is a major public health threat for an estimated 44 million Americans or 55 percent of the people 50 years of age and older. In the U.S. today, 10 million individuals are estimated to already have the disease and almost 34 million more are estimated to have low bone mass, placing them at increased risk for osteoporosis. While women are four times more likely to suffer from osteoporosis, men can also be affected.
HSHS Good Shepherd Hospital realizes the prevalence of this debilitating disease. We offer bone density (DEXA) scans which measure bone loss and deterioration.Together, the following five steps can optimize bone health and help prevent osteoporosis:
Get the daily recommended amounts of calcium and vitamin D
Engage in regular weight-bearing and muscle-strengthening exercise
Avoid smoking and excessive alcohol
Talk to your healthcare provider about bone health
Have a bone density test and take medication when appropriate
HSHS Good Shepherd Hospital uses the 64-Slice Computed Tomography (CT) system to perform CT scans – sometimes called a CAT scan. CT is an exceptional diagnostic tool and includes a non-invasive test to produce multiple images or pictures of the inside of the body. This technology allows physicians to more effectively detect and treat a wide range of illnesses, from heart disease to cancer to stroke. These scans provide greater detail than standard X-rays.
MRI, or magnetic resonance imaging, is one of the latest advances in medical imaging today. Unlike standard x-ray exams, MRI uses a large magnet to obtain images and there is no radiation involved. MRI scans show detailed anatomy, as well as soft tissue detail, which is not possible with x-rays.
HSHS Good Shepherd Hospital is dedicated to making sure every woman meeting requirements (age, family or personal history, symptoms of breast disease) has a yearly screening or diagnostic mammogram, a test crucial for detecting breast cancer sometimes even before a lump is discovered after a physical examination.
Learn more about our services
here
.
HSHS Good Shepherd Hospital offers a wide variety of nuclear medicine imaging services. Nuclear medicine tests differ from most other imaging in that diagnostic tests primarily show the physiological function of the system being investigated. We can perform bone scans, liver/spleen scans, GI bleed studies, gastric emptying studies and more.
When most people think of having an ultrasound or sonogram, obstetrics comes to mind. In reality, ultrasound images are yet another tool physicians can use to quickly diagnose and treat illnesses. It has become one of the most widely used diagnostic tools.
At HSHS Good Shepherd Hospital, we perform ultrasounds for diagnosis in the abdomen, heart, pelvis area, breast, thyroid, kidneys, bladder, liver, gallbladder, pancreas, spleen, abdominal aorta and testicular areas as well as arteries and veins.
Sometimes that rolled ankle is just a sprain but it could be a broken bone. Only a simple, but efficient X-ray can tell the difference. At HSHS Good Shepherd Hospital we utilize this standard and proven technology to quickly diagnose and treat a patient's situation. We feature both general and portable X-ray units for efficiency.