HSHS Medical Group Awards Colleague of the Month to Veronika Prewitt
HSHS Medical Group is pleased to award Veronika Prewitt with our April Colleague of the Month Award. Veronika is a registrar at HSHS Medical Group Multispecialty Care in Jacksonville, Illinois.
The Colleague of the Month is chosen from nominations submitted by fellow HSHS Medical Group team members. "Veronika is a great example of care and compassion," her nominator said. "She is such a joy to be around, and we are constantly receiving comments from patients on how wonderful and welcoming Veronika is at the front desk. She is so uplifting and always encourages other–she is a light of positivity in our office."
"My favorite part of my job is connecting with people in the community," Veronika said. "I want to make their visit to our clinic special–from the time they check in, to the time they check out–by making them feel like a person instead of just a number. With each person that I come in contact with, whether at work, church, or elsewhere, I make sure to greet them with a warm smile and a hello."
When Veronika isn't working, she enjoys spending time with her family, volunteering, crafting and photography.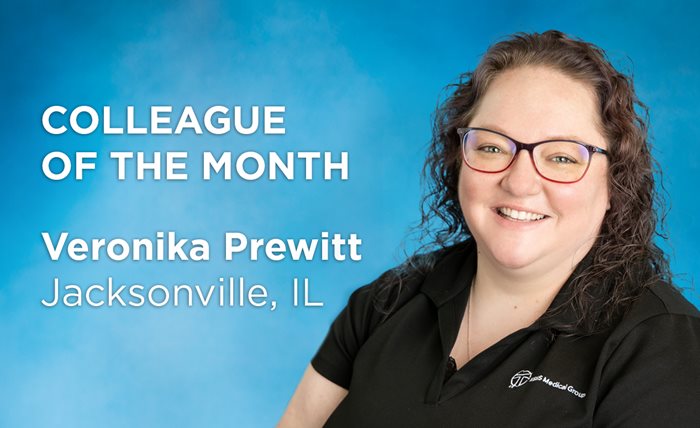 Media Contact
Lori Harlan
Divisional Director of Marketing, HSHS Medical Group