Community Medication Take Back Event
Saturday, April 30 at HSHS St. Clare Memorial Hospital
Oconto Co. – Area residents will have the opportunity to safely dispose of unneeded medications at a HSHS St. Clare Memorial Hospital, 855 S. Main St., Oconto Falls, from 10 a.m. to 1 p.m. on Saturday, April 30.
Those dropping off medications should remain in their vehicle and a volunteer will come to collect.
Guidelines
All waste pharmaceuticals must be generated by a household – no businesses are allowed.
Bring: Prescription (controlled and non-controlled) and over-the-counter medications, ointments, patches, inhalers, non-aerosol sprays, creams, vials and pet medications. Cross out identifying information on the containers.
Participants may dispose of medication(s) by removing the medication from its container and disposing of it directly into a disposal box or into a clear sealable plastic bag. Plastic pill containers should not be collected. Blister packages without the medications being removed are acceptable.
Liquids will be accepted during this initiative. However, the liquids, creams and sprays must be in their original packaging and their weight evenly distributed within the boxes of collected solid prescription medications. Liquids without the original packaging will not be accepted.
Do not bring: Illegal drugs, needles/sharps, acids, aerosol cans, bio-hazardous materials (anything containing a bodily fluid or blood), personal care products (shampoo, soaps, lotions, sunscreens), household hazardous waste (paint, pesticides, oil, gas), mercury thermometers.
Illicit substances such as marijuana or methamphetamine are not a part of this initiative and should not be placed in collection containers.
This community event is being held in conjunction with the Drug Enforcement Administration's National Prescription Drug Take-Back Day, which aims to rid homes of unused medications that create a public health and safety concern because they can be stolen, abused, accidentally ingested or improperly disposed of.
###
About HSHS St. Clare Memorial Hospital
HSHS St. Clare Memorial Hospital serves Oconto Falls and the surrounding communities as a federally designated critical access hospital with a 24-hour emergency department; urgent care; general, vascular, and orthopedic surgical services; inpatient and outpatient surgical and diagnostic services; rehabilitation; an oncology outpatient clinic; and women's care. It was founded as Oconto Falls City Hospital in 1921 and became HSHS St. Clare Memorial Hospital in 2014 when it joined Hospital Sisters Health System (HSHS). As an affiliate of HSHS, HSHS St. Clare Memorial Hospital draws on the history of St. Francis of Assisi as it serves the health care needs of the region in Christ's healing ministry, caring for all people. HSHS St. Clare Memorial Hospital also has six regional health center locations in affiliation with Prevea Health in Gillett, Lena, Mountain, Oconto, Oconto Falls and Suring. HSHS St. Clare Memorial Hospital Pharmacies are located in Gillett and Oconto Falls. For more information about St. Clare, please visit: www.stclarememorial.org.
About Hospital Sisters Health System
Hospital Sisters Health System's (HSHS) mission is to reveal and embody Christ's healing love for all people through our high-quality Franciscan health care ministry. HSHS provides state-of-the-art health care to our patients and is dedicated to serving all people, especially the most vulnerable, at each of our physician practices and 15 local hospitals in two states – Illinois (Breese, Decatur, Effingham, Greenville, Highland, Litchfield, O'Fallon, Shelbyville and Springfield) and Wisconsin (Chippewa Falls, Eau Claire, Oconto Falls, Sheboygan and two in Green Bay). HSHS is sponsored by Hospital Sisters Ministries, and Hospital Sisters of St. Francis is the founding institute. For more information about HSHS, visit www.hshs.org. For more information about Hospital Sisters of St. Francis, visit www.hospitalsisters.org.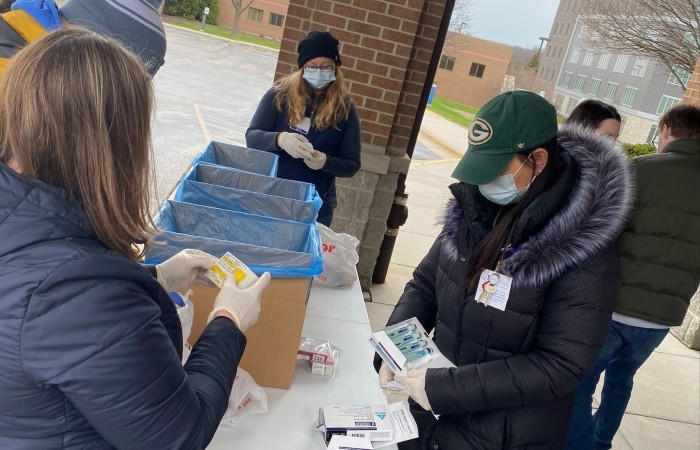 Media Contact
Angela Deja
Director, Public Relations and Communications