Home Health Services
Home health is a state-licensed, medicare certified and joint commission accredited department of HSHS St. Vincent Hospital.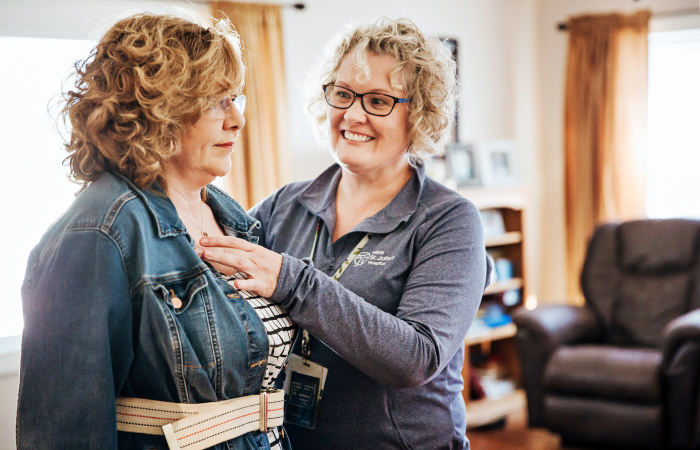 Home Health offers services to individuals in their home who require the skills of a nurse or therapist, are homebound and are under the care of a physician. Home Health services focus on improving the health and independence of those in the community while allowing individuals to receive health care services in the comfort of their own home. Home Health offers a variety of services at a significant cost savings and Home Health is covered by Medicare, Medicaid and most insurance plans.
For more information about any of our services, how to qualify or insurance coverage, call 920-448-7000 or email HHCinfo@stvgb.org.
Hospice Care
Hospice care is designed to provide comfort care to persons in the last stages of life who are no longer seeking or receiving curative treatment. Unity Hospice is a partnership of HSHS St. Vincent Hospital, Bellin Health and HSHS St. Mary's Hospital Medical Center, and has been caring for Northeast Wisconsin families for three decades. Unity Hospice provides care to residents in all or parts of the following counties: Brown, Calumet, Door, Forest, Kewaunee, Manitowoc, Marinette, Menominee, Oconto, Outagamie, Shawano, and Waupaca.
For questions or to make a referral, call 920-338-1111 or toll-free 800-990-9249.
Telehealth
Telehealth is the delivery of health-related services and information via telecommunications technologies. Telehealth may be part of a client's Home Health plan of care. Telehealth provides the opportunity for our nurses to review some of our client's health information, even when a visit to the home is not needed.
Telehealth encompasses preventative and curative aspects and helps promote client independence. With Telehealth, Home Health will be able to monitor weights, blood pressures, oxygen saturations, pulse, and blood sugars.
LIFELINE Personal Response System
A fall, or some other need to call for help, could happen at any time. With the push of a button, LIFELINE cannot only protect a life, it can preserve a cherished way of life by giving seniors the confidence to continue living in their own homes.
Services
Home Health services through HSHS St. Vincent Hospital offers home health services, medical supplies, and equipment to residents of Northeast Wisconsin. Home Health services are provided under the direction of the patient's doctor.
Certified or licensed professionals provide services such as:
Comprehensive coordination of all received Home Health services, including insurance benefits and referrals to community resources such as Mobile Meals, LIFELINE, and medical equipment providers.
Our Certified Nursing Assistants help nursing and therapy staff to provide skilled care such as complex bathing, dressing, grooming, and therapy exercises.
Occupational therapists help patients to adapt or regain day-to-day skills such as eating, cooking, dressing, bathing and general housekeeping.
Our physical therapy staff provide therapy and training in the home such as prescribed therapeutic exercise, gait training and instruction in using a walker or cane.
Registered nurses work with your doctor to provide home care services. Their assessment, skilled treatment and support provide the high quality care you need to recover at home. They are available to you for urgent situations or questions 24 hours a day, 7 days a week. This may include home intravenous therapy, tube feedings, post-surgical care, wound management, diabetes management, cardiac care, respiratory care, and much more. In addition, health education is provided for patients and their families.
Social workers provide counseling to help patient and families to understand and cope with problems caused by illness or injury. They also can make referrals to community agencies and can help explore options with financial resource issues.
Speech therapy staff help patients improve problems eating, swallowing, cognition, and communication.