Cassie James honored with BEE award
HSHS St. Francis Hospital recently presented the Being Exceptional Everyday (BEE) Award to Cassie James of the Radiology Department.
She was nominated by a colleague, who stated, "Cassie is truly a great asset to the radiology department She is so helpful, never says "not my job" and she is kind and caring with our patients. Cassie goes above and beyond with her co-workers as well. Cassie is the center of Radiology Department. She is always checking on patients in the waiting room. She makes sure that they are okay or if they need anything. If we need help, she is always willing to help with no questions."
The BEE Award was established to recognize colleagues outside of nursing who go beyond expectations of their daily work to exemplify the hospital's Mission and deliver outstanding service to patients. Distribution of St. Francis Hospital's semi-annual BEE Award is made possible through funds provided by HSHS St. Francis Foundation.
Nominations for future BEE and other awards at St. Francis Hospital continue to be accepted. Patients and visitors are encouraged to share and submit their story of witnessing excellent and compassionate care from staff. Award descriptions and an online nomination form can be found
here
. Paper forms available throughout the hospital.
Photo caption: HSHS St. Francis Hospital colleagues on hand to congratulate Cassie (fifth from right), Radiology, who was named the BEE Award winner were (left to right) Jim Timpe, CEO; Jennifer Lewis Radiology Manager, Carrie Small, Radiology; Lauren Armstrong, Radiology; Cassie James; Sam Moseley, Radiology, Aryn Hunter, Director of Operations.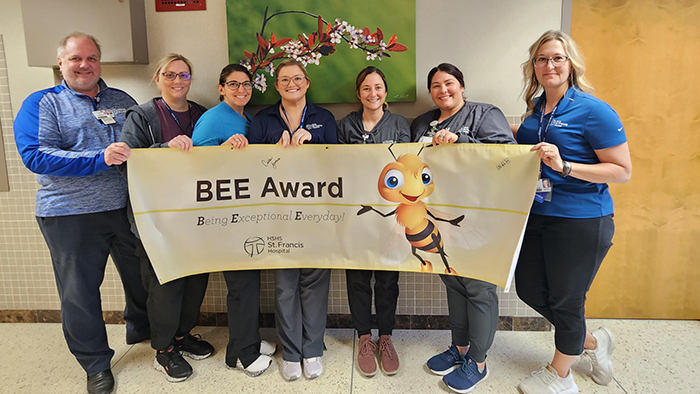 Media Contact
Melissa Athmer
Marketing and Communications Manager