Inaugural BEE Award recipient announced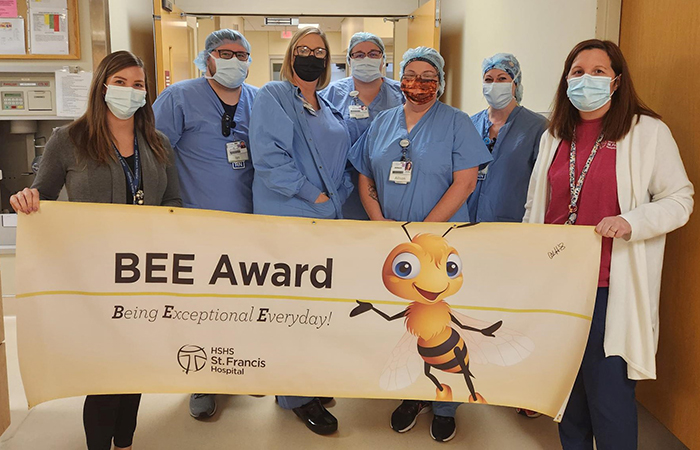 HSHS St. Francis Hospital recently presented the inaugural Being Extraordinary Everyday (BEE) Award to Allison Hendricks, sterilization technician.
She was nominated by colleague Stephanie Edwards, who stated, "Allison is one of those one in a million employees. She is willing to go above and beyond to help anyone, whether it is in her department or not. She is willing to go to other departments and work without question. She is always willing to step up. St. Francis, sterile processing and the OR staff are very lucky and proud to have her in the department."
In addition to Hendricks, three other St. Francis colleagues received nominations this quarter.
The BEE Award was established to recognize the colleagues outside of nursing who go beyond expectations of their daily work to exemplify the hospital's Mission and deliver outstanding service to patients. Distribution of St. Francis Hospital's quarterly BEE Award is made possible through funds provided by HSHS St. Francis Foundation.
Nominations for future BEE and other awards at St. Francis Hospital continue to be accepted. Patients and visitors are encouraged to share and submit their story of witnessing excellent and compassionate care from staff. Award descriptions and an online nomination form can be found here, or on paper forms available throughout the hospital.
Photo Caption: HSHS St. Francis Hospital colleagues on hand to congratulate Allison Hendricks (third from right), sterilization technician, who was named the inaugural BEE Award winner were (left to right) Heather Senaldi, director of nursing; Ian Polus, surgery assistant nurse manager; Karen Webb, surgery nurse manager; Alesia Haslett, surgery clerk; Hendricks; Emily Albrecht, surgery RN; and Bethany Price, educator.