Safe a life this holiday season, donate blood
The busy holiday season means fewer blood drives, and many donors are delaying their next appointment until after the new year. Even the weather can cause fewer donors to venture out. There is a critical need for blood donations to keep supplies ready to meet the needs of patients.
HSHS St. Francis Hospital hosts blood drives with ImpactLife on a regular basis to keep supplies up. The next drive will be held on Tuesday, Dec. 20 from 11:30 a.m. to 4 p.m. Blood drives for 2023 are scheduled for Feb. 21, April 25 and June 20. To make an appointment at the next area blood drive, visit ImpactLife's Donor Portal (bloodcenter.org) or call 800-747-5401.
Someone needs blood or a blood product every two seconds in the United States, according to America's Blood Centers (ABC). About one in seven people entering a hospital needs blood for a variety of reasons. Blood transfusions can be necessary for serious injuries, surgeries, childbirth, blood disorders, anemia and many other conditions and situations. Plasma donations can be vital for patients with liver failure, severe infections and serious burns.
Blood donations are needed year-round for these reasons. But during the winter months, HSHS St. Francis Hospital is encouraging the public to make a concerted effort to give blood at a local blood drive.
"Donating blood is something I am passionate about and committed to for many reasons," said St. Francis Hospital's Manager of Oncology and Infusion Services Kayleigh Bondurant, RN, BSN, CIC. "Blood donation is vital for oncology patients due to the low blood and platelet counts that can occur as a side effect of cancer treatment. Healthy people can help support cancer patients in their fight by donating blood that can be an essential piece in allowing so many to receive their scheduled chemotherapy treatments."
Top reasons to make donating blood part of your winter plans:
Your donation can save a life, or several lives if your blood is separated into its components – red blood cells, platelets and plasma. In fact, one pint of blood can save up to three lives.
Good Giving: Now through Jan. 15, ImpactLife blood donors are given the opportunity to support food banks.
Before donating, you receive a small health check-up (not to replace regular exams with your provider) that includes a check of your pulse, blood pressure, body temperature and iron levels. Also, once your blood is collected and sent to a lab, further testing is done to check for infectious diseases, and you are notified immediately if there are concerns.
For more information about how to save and improve quality of life for those in need of blood and plasma, visit the ImpactLife website at bloodcenter.org, which is the organization that supplies HSHS Illinois hospitals with blood and blood products.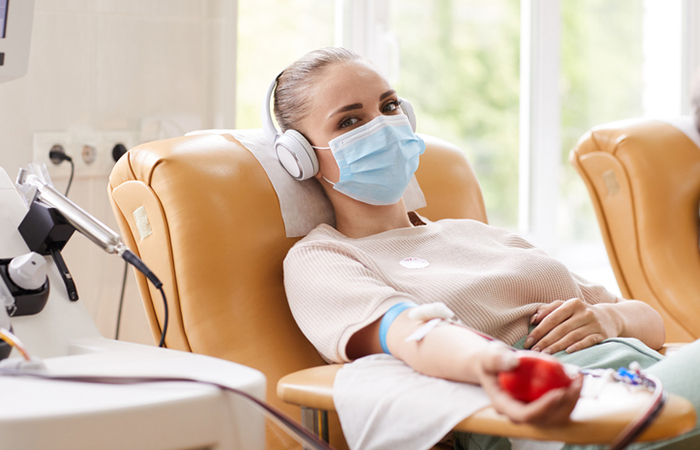 Media Contact
Melissa Athmer
Marketing and Communications Manager