Frequent hand washing can reduce spread of illness
HSHS St. Joseph's Breese encourages everyone to frequently wash their hands when exposed to highly touched surfaces to aid in reducing the spread of these illnesses like RSV, Influenza, COVID and more.
COVID, flu and RSV primarily spread through droplets in the air but could also be spread by our hands. Germs can be spread by hands coming into contact with a hard surface contaminated by the cough or sneeze of an infected person. Washing your hands often, especially before eating or touching your face and after using the restroom, can help prevent many illnesses including COVID, flu and RSV.
Depending on the type of illness, some germs can live on non-porous surfaces from a few hours to a few days. Most cold and viral respiratory germs can live on hard surfaces for up to one week, but they lose their effectiveness after the first 24 hours. Influenza can live from up to 24 to 48 hours on hard surfaces. COVID can live on a hard surface from a few hours to a few days.
Highly touched surfaces are those that people frequently touch with their hands. These surfaces can easily become contaminated by germs from an infected individual and spread to another through touching the surface and then their eyes, mouth or nose. It is important to frequently wash your hands to avoid the spread of germs.
Examples of highly touched, non-porous hard surfaces:
In communal spaces such as work, school or stores:
Doorknobs and handles
Elevator buttons
Shopping carts
Counters
Pens
Stair railings
Light switches
Chairs
Lunchrooms or kitchens
In bathroom facilities:
Toilets
Flush handles
Sinks
Hand dryers
Changing rooms and showers
Shared home and work equipment:
Fridges
Keyboards
Printer and copy machine buttons
Microwaves
Control panels and remotes
Phones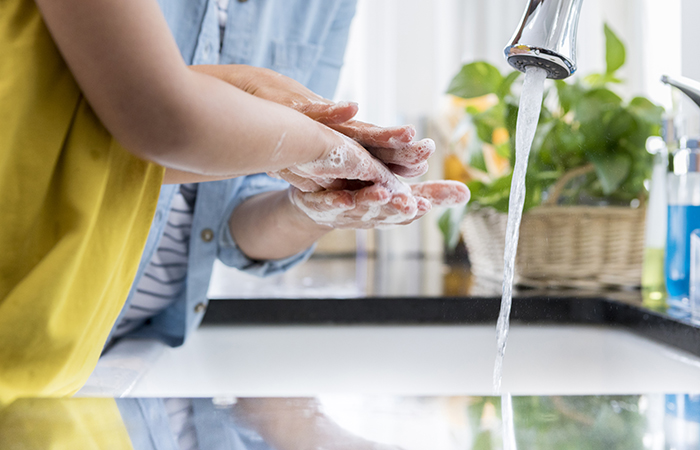 Media Contact
Ashley Gramann
HSHS Illinois Communications Manager