HSHS St. Joseph's Hospital Breese Installs da Vinci® Xi Robotic-Assisted Surgery System
HSHS St. Joseph's Hospital Breese is pleased to announce the recent acquisition of the da Vinci® Xi robotic-assisted surgical system. The da Vinci Xi system was designed with the goal of further advancing the technology used in minimally invasive surgery.
The da Vinci system can be used across a spectrum of minimally invasive surgical procedures and will be used at St. Joseph's Hospital by trained surgeons for laproscopic general and gynecological surgery.
HSHS St. Joseph's Hospital's President and CEO Aaron Puchbauer shared, "We are proud to bring the advanced technologies of the da Vinci Xi surgical system to our hospital, offering state-of-the-art minimally invasive surgeries to our patients close to home. It also is a great tool to attract surgeons to our area as robotic techniques are taught in medical school and new surgeons are often eager to work in hospitals with the most advanced robotic technologies, which benefits our region overall," he said.
The da Vinci surgical system gives the surgeon an advanced set of instruments to use in performing robotic-assisted minimally invasive surgery. Contrary to widespread belief, the da Vinci system is not a "robot" that performs surgery robotically itself. The surgeon is 100% in control of the robotic-assisted da Vinci system.
The surgeon performs surgery with da Vinci by using instruments that he or she guides via a console. The system translates the surgeon's hand movements at the console in real time, bending and rotating the instruments while performing the procedure. The tiny wristed instruments move like a human hand, but with a greater range of motion. The da Vinci vision system also delivers highly magnified, 3D high-definition views of the surgical area. The instrument size makes it possible for surgeons to operate through one or a few small incisions. In total, the da Vinci system is a technological extension of a surgeon's hands and eyes, enabling them to operate with enhanced vision, precision, dexterity and control.
"At HSHS St. Joseph's Hospital Breese, the highly skilled surgeons on our medical staff put the patient at the center of everything they do," said Dr. Dennis Szurkus Jr., chief medical officer at St. Joseph's Hospital. "The surgeons utilize the most advanced surgical technology, including the Intuitive da Vinci surgical system to accomplish safe minimally invasive surgery. This approach allows the patient to return to family activities and an active lifestyle as soon as possible."
The da Vinci Xi surgical system may be an option for patients having general and gynecologic-related surgery. Patients benefit from surgery conducted using the da Vinci Xi surgical system in the following ways:
Surgery is minimally invasive, with reduced scarring.

Shorter hospital stays.

Quicker recovery.

Less pain medication is often needed.
Dr.Deirdre Knobeloch has been previously trained and has performed many gynecological procedures with the da Vinci robot at other locations but will now be using this technology at St. Joseph's in Breese. Additionally, hospital surgical services colleagues and local surgeons are well-trained on using this innovative technology. Dr. Ulunna MacBean, HSHS Medical Group general surgeon, recently went through training and shared, "I'm grateful the hospital is investing in the latest technology to offer robotic-assisted surgery close to home. I look forward to offering robotic-assisted minimally invasive procedures to my patients in the Breese area."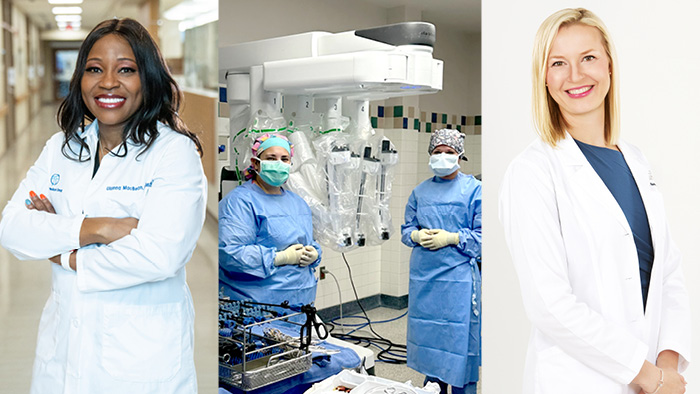 Media Contact
Ashley Gramann
HSHS Illinois Communications Manager