Team Receives DAISY Award for Life-saving Care
Sarah Alton delivered her fourth child, Grace, on May 2, 2023, and not long after delivery, she started experiencing complications that quickly became life-threatening. A team of doctors, a mid-wife and nurses from the women and infants department, nurses and certified registered nurse anesthetists (CRNAs) from the surgical team, a lab technician and hospital nursing leadership worked together to deliver life-saving care.
After learning about what had happened, Mandi Ennen, chief nursing officer at St. Joseph's
Hospital, knew this team needed to be recognized, so she submitted the story to the DAISY Foundation. The DAISY Foundation's mission is to recognize the extraordinary, compassionate nursing care provided to patients and families every day. The DAISY Team Award recognizes that while an idea to achieve better patient and family outcomes may start with one individual, it often takes an entire team to implement it successfully.
On July 18, the DAISY Team Award event was held at St. Joseph's and led by Ennen. She opened the event by sharing, "I could not be prouder than I am of this team. Because of their expertise and exceptional care, Sarah's life was saved so that she could be here with her family."
Sarah Alton, Grace Alton, and Alton's mother, Mary Ford, were in attendance to personally thank the team.
"This amazing team saved my life," Alton said, "I really feel if I would have been at some place else, the outcome would have been different."
Additionally, Dr. Bonnie Gelly, obstetrician/gynecologist, a medical staff member and one of the recipients of the DAISY Team Award, shared her feelings from that day. "I have the utmost respect for and pride in our staff at St. Joseph's. I am so fortunate to practice in our hospital in the middle of southern Illinois cornfields. Crazy things happen to low-risk patients, but wonderful miracles happen in our building. I am humbled daily by the compassion and competence of our nursing and tech staff and anesthesia providers. I couldn't do this anywhere else."

To learn more about HSHS St. Joseph's Hospital Breese, visit stjoebreese.com. More information about The DAISY Foundation can be found by visiting daisyfoundation.org.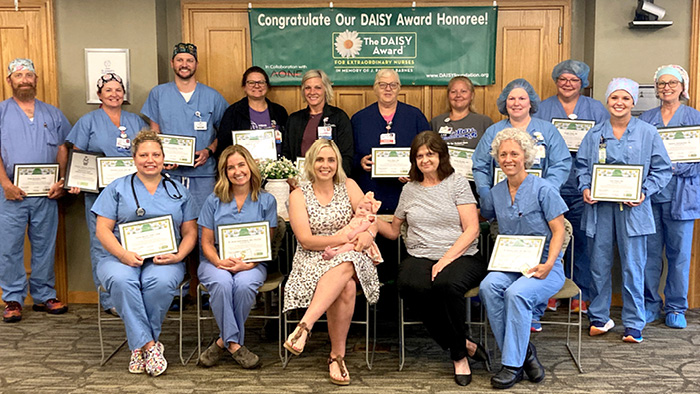 Media Contact
Ashley Gramann
HSHS Illinois Communications Manager