Almost Home Program
An alternative service option when a patient no longer needs the care they received in our hospital, yet they may not feel strong enough to return home.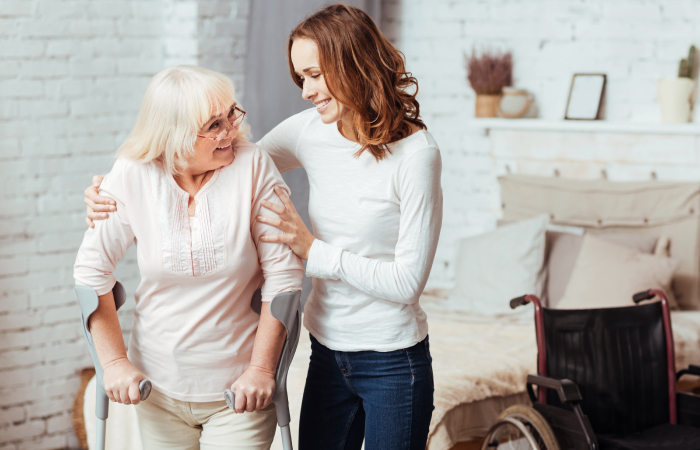 Our Almost Home rehabilitation service is designed to provide patients with individualized, in-hospital care and physical rehabilitation to help them reach an optimal level of functioning. When a patient's condition is no longer considered acute, they can be moved to a lower level of medical and nursing supervision under the Almost Home program. The services are designed to increase your independence and help prepare you for returning home and restoring you to your normal level of activity.
Through a combination of first rate rehabilitative therapies, attentive nursing care and medical supervision, patients gain the strength, functionality, balance and range of motion they need to care for themselves with confidence.
Recent Surgery
Respiratory Infections
Wound Care
Recovery from hip or joint replacement surgery
Extended IV antibiotic therapy
Physical deconditioning after major surgery or illness
TPN, PEG, and NG Feeding
Family & Caregiver Training
Other conditions may qualify
Our expert team will work with you in creating an individualized, multi-disciplinary treatment plan that outlines recovery goals focused on restoring you to your normal level of activity.

Patients will receive skilled rehabilitation, evaluation and treatment services for five to seven days per week, or as prescribed. The multi-disciplinary team providing these services includes: physicians and hospitalists, qualified nurses, RN case manager to assist with discharge planning, licensed dietitian, physical, occupational & speech therapists, pharmacists, pulmonary/respiratory therapists, social workers and recreational activities planner.
Qualified patients who have been admitted to HSHS St. Joseph's Hospital in Breese or at other facilities for acute care can transfer to our Almost Home Program for their rehabilitation phase of recovery and other skilled services without ever leaving the hospital.

Medicare and other providers may cover Almost Home services if physician orders and the care meet skilled nursing criteria. Certain private insurance may also cover Almost Home services; your discharge planning nurse can help you verify benefits.
Patients are discharged when they have received the maximum benefit of skilled nursing or rehabilitation as determined by the physician, the care has become custodial in nature, the care requires long term rehabilitation placement, or there is a change in the patient's needs or level of care.

The length of stay in the Almost Home program is dependent upon individual needs and progress. The average length of stay is three to five days. Medicare will cover up to 20 days at 100%, providing the patient has a skilled need. The services require the use of the Medicare patient's skilled nursing facility benefit. The Almost Home program is not intended for permanent placement; it is for continued care until the patient returns home or transfers to a facility for longer term care.
Where do I start?
If you would like more information about our Almost Home Program, please call 618-526-5897.