Val's story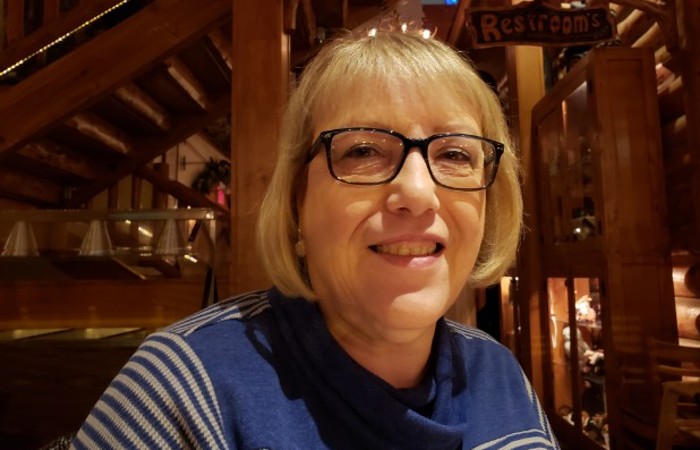 Following a polio diagnosis in the early 1950s, Val knew she would endure weakness in her arms and legs for the rest of her life. But it was a brain hemorrhage she experienced in her mid-40s that further limited her movement when the left side of her body was partially paralyzed and weakened.
"Following my polio diagnosis as a child, and then my brain bleed as an adult, I really only had one good limb left," said Val. "I utilized a motor wheelchair and fortunately I still had function in my right arm, and I relied on my right arm for just about everything."
Val visited her doctor at the Prevea Regional Orthopedic Center at HSHS St. Mary's Hospital Medical Center in Green Bay a couple of times a year for her right arm. She began receiving shots of cortisone to help with rotator cuff pain she developed and started to experience more frequently. For years, the treatment provided the relief she needed but over time it began having less of an impact.
"My arm just kept getting worse and my doctor said it was likely time to consider rotator cuff surgery," said Val. "The situation got to the point that when my arm hurt, I would hardly move and just stay still to avoid the pain."
Val was referred to Dr. Todd Schubkegel, orthopedic surgeon and shoulder/elbow reconstruction specialist, at the Prevea Regional Orthopedic Center, which lead to a test and evaluation of Val's range of motion and strength. It was discovered that without rotator cuff repair surgery, Val risked further tendon injury in her arm which could more significantly limit her functional independence.
"If I were to tear the tendon in my good arm, not only would I be terribly limited in what I could do but I would also need major surgery," said Val.
Val underwent arthroscopic rotator cuff repair/augmentation surgery with Dr. Schubkegel, at HSHS St. Mary's Hospital Medical Center. Prevea Health is partnered with HSHS hospitals across Wisconsin, including St. Mary's, providing specialists like Dr. Schubkegel access to state-of-the-art surgical suites, technologies and surgical support teams. Prevea orthopedic surgeons also have access to the Prevea Surgery Center, a state-of-the-art ambulatory surgery center for patients who qualify for outpatient surgical care.
"Dr. Schubkegel and his team let me know that most patients would go home to recover following this particular surgery, but my situation was different," said Val. "I would need so much assistance and therapy following the surgery."
Due to Val's dependence on her right arm for mobility, she required recovery care for six to nine weeks to protect the repair following surgery. During this time Val relied on her team of caregivers and husband for most of her daily activities - from combing her hair, to eating, and getting dressed. Through following the recovery plan developed by Dr. Schubkegel, Val gained confidence that she would regain her independence.
"After about nine weeks of therapy, I was really happy to return home," said Val. "By the twelfth week my strength had returned, and I could use my right arm in ways that were once difficult and painful. I felt so much better having gained back my independence."
After finding the courage to get the needed rotator cuff repair surgery done, Val was very satisfied with the end results. She felt Dr. Schubkegel took a keen interest in her unique circumstance and offered care that was specialized to her needs.
"Dr. Schubkegel was such a compassionate man," said Val. "He knew from the get-go that I was a special case and how important it was for my independence to get my arm functioning again without pain. He showed he cared by checking in on me and continually making sure I was making progress."
From opening a carton of milk on her own to brushing her teeth without the help of her husband, Val continued to make strides in her recovery through therapy and guidance from Dr. Schubkegel. She reflects on the experience, one she describes as humbling, as something made more manageable thanks to the care she received from Dr. Schubkegel, Prevea Orthopedics and HSHS St. Mary's Hospital Medical Center.
"You rarely think of what you can't do, until it's taken from you," said Val. "Without surgery, my shoulder could have gotten much worse, and my doctor knew that. It was special for me to know my doctor cared about my challenges and wanted to do everything he could to help."
Categories:
;