Heart Care
HSHS St. Mary's Hospital Medical Center's cardiology capabilities include a wide range of inpatient and outpatient services designed to serve our community.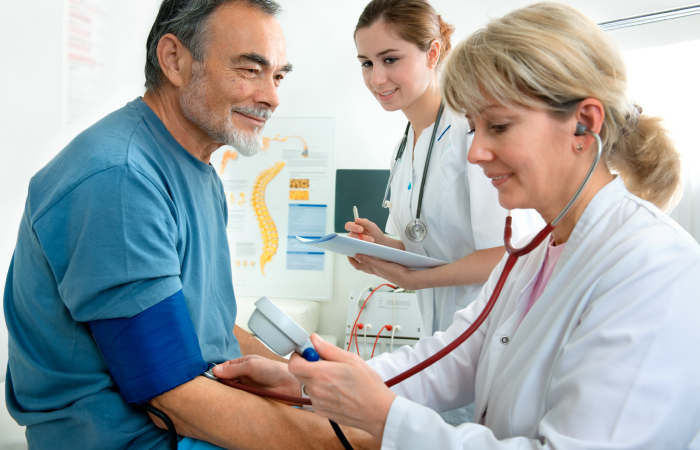 Our Heart Care Family
At the core of our Heart Center is a well-rounded team of top-notch professionals with years of experience and specialized training in the most advanced cardiac care practices. From cardiologists and cardiothoracic surgeons to cardiovascular technicians and critical care nurses, it's a long list with many hard-to-pronounce titles. Whether or not you understand the title of the professional, you will always understand the care you are receiving.
Our integrated approach to patient care provides each of our cardiac patients with continuity of care, ranging from diagnosis through treatment and rehabilitation. With hospitalist physicians on duty 24 hours per day, 7 days per week, St. Mary's offers a full range of cardiac services with the exception of open-heart surgery.
Chest Pain Center
The Critical Decision Treatment Unit (CDTU) is the entry point to cardiac services for patients that come through the Emergency Department. The unit helps narrow down the initial diagnosis for patients experiencing heart issues using a variety of technologies and tests.
In the event of chest pain or acute MI (heart attack), the patient is transferred to the Cardiac Catheterization Lab for further tests.
Patients with coronary artery disease are typically treated with procedures like angioplasty and stenting, coronary artery bypass grafting (surgery), and medications to improve blood flow to the heart muscle. Other procedures available include Catheterization Laboratory Procedures, Noninvasive Cardiovascular Diagnostic Procedures and Surgical Procedures.
Heart Care Procedures
Ablation of complex arrhythmia
Angioplasty with stenting
Atrial septal defect closures
Defibrillator implantation
Diagnostic cardiac catheterization
Electrophysiologic evaluation of complex arrhythmias
Evaluation of cardiac valves
Evaluation of congenital heart disease
Pacemaker implantation
Patent foramen oval closures
Vascular angioplasty and stenting
Cardiac and vascular ultrasound
Doppler exams
Electrocardiograms
Heart calcium scoring
Holter monitoring
Nuclear treadmill testing
Stress echocardiography
Transesophageal echocardiography
Multi slice cardiac/vascular CT angiogram
Aortic root and arch surgery
Cardiac Anesthesia Monitoring
Cerebral oxygenation monitoring
Continuous right and left heart function monitoring
Coronary artery bypass graft surgery
General thoracic surgery (Mediastinal tumors; lung surgery; extensive, minimally invasive, video-assisted thoracoscopic surgery)
Heart valve replacement and repair
Micra® Pacemaker
Perioperative transesophageal echocardiography
Transcatheter aortic valve replacement (TAVR)
Transmyocardial laser revascularization
Thorascopic microwave ablation
Vascular surgery (aortic, cerebrovascular renal and peripheral)