Emergency Services
Our close proximity to the I-43/Highway 23 interchange means rapid emergency treatment is only minutes away–wherever you may be in our area.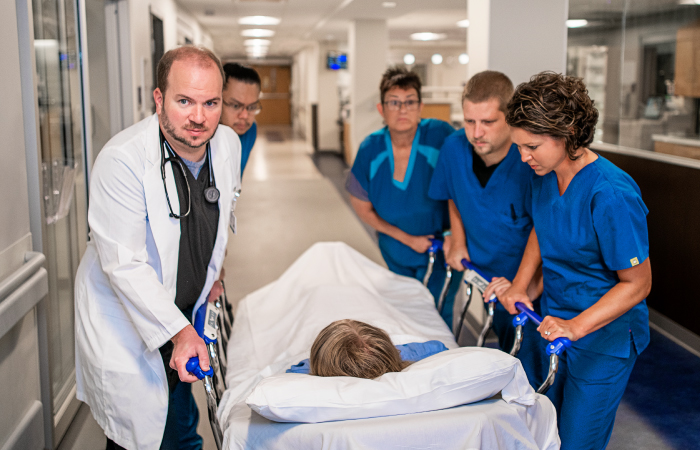 St. Nicholas Emergency Services
24-hour Emergency and Trauma services.
Board certified emergency physicians.
100% of our emergency nursing staff hold:
Advanced Cardiac Life Support Certification
Trauma Nurse Core Certification
Emergency Nurse Pediatric Certification
Advanced diagnostic services including CT, MRI, nuclear medicine, sonography, EEG, and ECG.
Emergency Transportation
Orange Cross Ambulance, Inc. operates a Sheboygan County station from the Emergency Department at HSHS St. Nicholas Hospital. Paramedic staff who provide advanced pre-hospital medical care are stationed at the Hospital. Orange Cross offers emergency intercept services to other outlying EMS units at their request.
In addition, medical air transport services provide transportation to tertiary care facilities when the situation requires more extensive care than can be provided on-site.
Opioid Use Disorder Treatment
Take the first step toward discovering a new life and happiness, with walk-in recovery care today.
Recovery from opioid addiction starts today.
If you or someone you know is struggling with heroin use or pain pills, HSHS St. Nicholas Hospital Emergency Department has a medication assisted recovery option for you. Buprenorphine is available 24/7 in the emergency department to start you on your recovery journey.
HSHS St. Nicholas Hospital understands, with sincere concern, the impact opioids have on people's lives. That is why we've expanded our emergency services to also include medical care that is founded on research and gives you the support you need, so you can take the first step toward being free from heroin or pain pills.
Anytime, day or night, we can help you with your recovery. No appointment is needed. Whether it's an overdose or you're just ready to get help, walk into our emergency department for judgement-free, confidential care today. We'll help you through withdrawal and connect you with recovery coaches from Lighthouse Recovery Community Center. Our teams will continue to work closely with you and help find the appropriate treatment provider so you get the treatment you need and deserve.
No insurance, no problem.
HSHS St. Nicholas Hospital's opioid management services are available at no cost to you, thanks to funding by a grant administered from the Wisconsin Department of Health Services.
Our emergency department is open 24 hours. Walk in anytime, or call 920-459-8300 for more information.
HSHS St. Nicholas Hospital Emergency Department
3100 Superior Ave
Sheboygan, Wisconsin 53081
Joint Commission Certified Primary Stroke Center
HSHS St. Nicholas Hospital has attained advanced stroke certification by The Joint Commission. This means that this center:
Provides the next generation of stroke care
Has met and seeks to maintain The Joint Commission's high standards in providing stroke or heart failure care
For general information on our emergency department, please call 920-459-8300.