Therapy
The inpatient therapy team at HSHS St. Nicholas Hospital is dedicated to helping patients make a full recovery. HSHS St. Nicholas Hospital provides physical, occupational and speech therapy, as well as lymphedema management.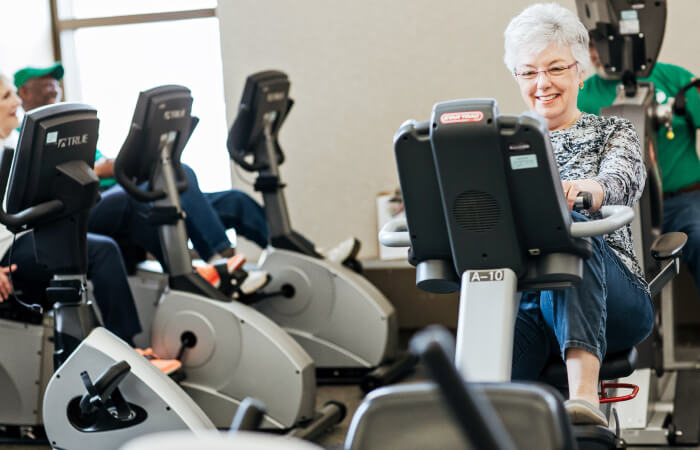 The caring, compassionate therapists at HSHS St. Nicholas Hospital are an integral part of the patient's comprehensive care and work in collaboration with the patients' healthcare team including their physicians, nurses, social workers, care managers and dietary managers to ensure the highest quality of care. Our therapists also provide feedback about prior level of function, special care needs, discharge plans and possible home modifications.
Therapy services
Often times, therapy is also needed when patients leave the hospital. HSHS St. Nicholas Hospital offers
home health therapy
to patients upon discharge in order to further progress their function in their own home setting. The
Prevea Therapy Institute
offers outpatient therapy services for continued care.
HSHS St. Nicholas Hospital is home to occupational therapists who are trained and certified in lymphedema therapy. They treat edema related to dysfunction of the lymph system caused by surgery, radiation treatment for cancer, infection and other causes. By employing lymphatic massage, active exercise and pressure garments, edema can be effectively reduced to allow patients to function more fully in daily activities.
Occupational therapy helps prepare patients to successfully perform daily activities, such as bathing, dressing and home care management. Our highly-skilled occupational therapy team will customize a program to help restore function through:
Activities of daily living, such as dressing and bathing
Range-of-motion, strengthening and coordination exercises
Patient and family education and training in equipment needs
Vision and memory training
The goal of inpatient physical therapy is to restore normal movement and function after a patient undergoes surgery or suffers from an illness or injury. Our dedicated team of licensed physical therapists uses hands-on treatment, exercise and gait training to help you regain independence. Physical therapy assists with:
Restoring normal function, strength and coordination
Improving mobility
Relieving pain
Speech therapy may be involved when your communication, thinking or swallowing has been affected by illness or injury. Our skilled speech therapists are specifically trained to restore, rehabilitate and help patients:
Regain speaking, reading and writing abilities
Improve a patient's ability to understand what others are saying
Improve a patient's thinking, math and memory skills, so they can manage their affairs
Improving swallowing skills to a safe level with food and beverages