Heart Center
From prevention and diagnosis to treatment and recovery, HSHS St. Vincent Hospital's Heart Center delivers state-of-the-art services with the most compassionate care.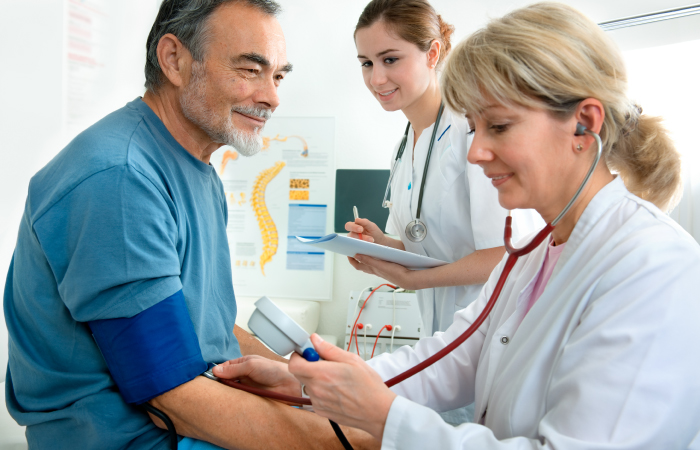 Our highly specialized medical team is well-trained—and experienced—in the latest advancements in heart surgery and other heart treatments.
Patients with coronary artery disease are typically treated with procedures like angioplasty and stenting, coronary artery bypass grafting (surgery), and medications to improve blood flow to the heart muscle. Other procedures available include catheterization laboratory procedures, noninvasive cardiovascular diagnostic procedures and surgical procedures.
Heart Care Procedures
Ablation of complex arrhythmia
Angioplasty with stenting
Atrial septal defect closures
Defibrillator implantation
Diagnostic cardiac catheterization
Electrophysiologic evaluation of complex arrhythmias
Evaluation of cardiac valves
Evaluation of congenital heart disease
Pacemaker implantation
Patent foramen oval closures
Vascular angioplasty and stenting
Cardiac and vascular ultrasound
Doppler exams
Electrocardiograms
Holter monitoring
Nuclear treadmill testing
Stress echocardiography
Transesophageal echocardiography
Multi slice cardiac/vascular CT angiogram
Aortic root and arch surgery
Cardiac Anesthesia Monitoring
Cerebral oxygenation monitoring
Continuous right and left heart function monitoring
Coronary artery bypass graft surgery
General thoracic surgery (Mediastinal tumors; lung surgery; extensive, minimally invasive, video-assisted thoracoscopic surgery)
Heart valve replacement and repair
Perioperative transesophageal echocardiography
Transcatheter aortic valve replacement (TAVR)
Transmyocardial laser revascularization
Thorascopic microwave ablation
Vascular surgery (aortic, cerebrovascular renal and peripheral)
Our Heart Care Family
At the core of our Heart Center is a well-rounded team of top-notch professionals with years of experience and specialized training in the most advanced cardiac care practices. From cardiologists and cardiothoracic surgeons to cardiovascular technicians and critical care nurses, it's a long list with many hard-to-pronounce titles. Whether or not you understand the title of the professional, you will always understand the care you are receiving.
Every member of HSHS St. Vincent Hospital, no matter what his or her role, lives and works by the belief that the best results only happen when each person is treated with compassion and individual attention. That means making sure you and your loved ones understand every step of the care and treatment you receive at our Heart Center and throughout our hospital.
Our Heart Care Facility
We designed our Heart Center to house the latest technology and support the most advanced cardiac treatments and procedures. Yet, equally important, is that our Heart Center was built with the care and comfort of our heart patients and their families in mind. Both can have peace of mind knowing our cath labs, cardiovascular operating room, and intensive care unit are just steps away from each other. This allows the doctor to see a patient in a cath lab and, if surgery is needed right away, the doctor can quickly move the patient next door for surgery. Just a couple steps from the operating room is the Cardiovascular Intensive Care Unit (CICU), where our staff can closely monitor patients immediately after surgery.
The careful thought we put into our Heart Center is apparent the minute you step into the entranceway. Comfortable furniture and calming colors create a welcoming place where patients and families can settle down and ease their minds of worries they may have about heart care. Family and guests are able to read from an interesting selection of books and magazines, keep other family members and friends updated via the Internet, watch TV or view a favorite DVD, play games on one of the room's computers, or simply relax to the gentle flow of our beautiful water sculpture.
For more than 120 years, patients have trusted us to care for their most complex health care needs. With our state-of-the-art Heart Center we're building even stronger trust that will take us well into the future.
However, some of the more "classic" symptoms can be experienced by both men and women:
Uncomfortable pressure, fullness, squeezing or pain in the center of the chest that lasts more than a few minutes or goes away and comes back
Discomfort or pain in one or both arms, the back, neck, jaw or stomach
Shortness of breath with or without chest discomfort
Lightheadedness, fainting, sweating, nausea
A feeling of indigestion
Women can also experience these symptoms:
These variations in symptoms are why heart attacks can be difficult to diagnose in women. If you think you may be having a heart attack, don't dismiss your instincts. Seek prompt medical attention!
DIAL DON'T DRIVE
IF YOU ARE EXPERIENCING SYMPTOMS, CALL 911 OR GO TO THE NEAREST EMERGENCY ROOM IMMEDIATELY.