HSHS St. Vincent's Surgery Center
Whenever you need inpatient or outpatient surgery, you can be assured that you will receive the highest quality care.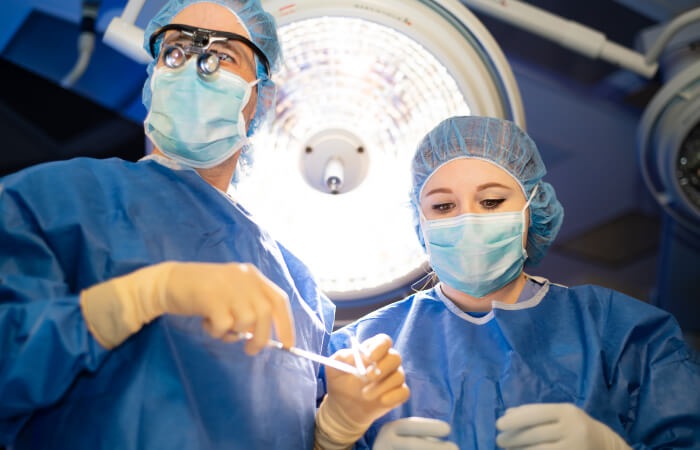 Here at HSHS St. Vincent Hospital we're equipped to handle advanced procedures with state-of-the art equipment and board-certified physicians who are experts in the latest techniques. After your surgery, you will have access to a multidisciplinary care team which includes outstanding registered nurses, physicians, physical and occupational therapists, clinical educators, nutritional services and spiritual advisors. When you need surgery, you can take comfort in knowing there is no better place to be than right here at HSHS St. Vincent Hospital.
About the Surgery Center
Our surgical suites are equipped with the latest surgical technology to provide you with the safest, highest quality care, and fastest recovery time to so you can get back to doing what you love.
Our team uses the
da Vinci Surgical System
. This robot allows our surgeons to operate through a few small incisions. The da Vinci System features a magnified 3-D high-definition vision system and tiny wristed instruments that bend and rotate far greater than the human wrist. As a result, da Vinci enables your surgeon to operate with enhanced vision, precision and control.
Benefits of Robotic Surgery:
Shorter hospitalization
Reduced pain and discomfort
Faster recovery time and return to normal activities
Smaller incisions, resulting in reduced risk of infection
Reduced blood loss and transfusion
Bariatric surgery
Bile duct surgery
Biopsies
Breast surgery
Cholecystectomy (gallbladder surgery)
Colorectal surgery
Ear, nose and throat (ENT) surgery
Endocrine surgery
Surgical endoscopy and endoscopic procedures
Gastroesophageal reflux surgery (LINX)
Hernia repair
Laparoscopic and minimally invasive surgery
Liver surgery
Minor office procedures
Neurosurgery
Orthopedic surgery
Pancreas surgery
Surgical oncology
Trauma surgery
Our surgical services include pre-operative services, 16 functional OR Suites and two open heart OR Suites, an anesthesia department contracted through Green Bay Anesthesiology, comprised of Nurse Anesthetists and Anesthesiologists, and a recovery room with specialty trained RNs who have advanced life support and pediatric life support training.

Our 24/7 operations are conducted on the 4th and 5th floors of the hospital.
When you come to HSHS St. Vincent Hospital you are in the most capable hands—whatever surgery you may need. Our board-certified, experienced surgeons and highly trained surgical technicians, assistants and registered nurses have expertise you won't find anywhere else.

On average we perform more than 9,200 inpatient and outpatient surgical procedures, in collaboration with services in the Heart Center, Cancer Center, Women's and Children, Orthopedic Center and Trauma Center.