Visiting Hours
HSHS Holy Family embraces patient- and family-centered care and recognizes that open visitation plays an important role in a patient's healing and recovery.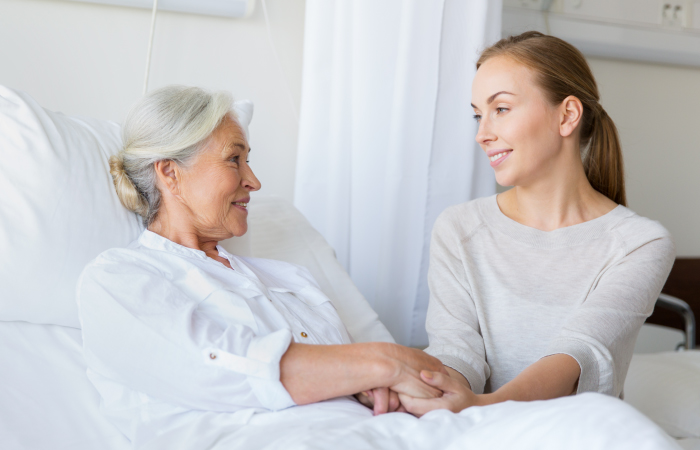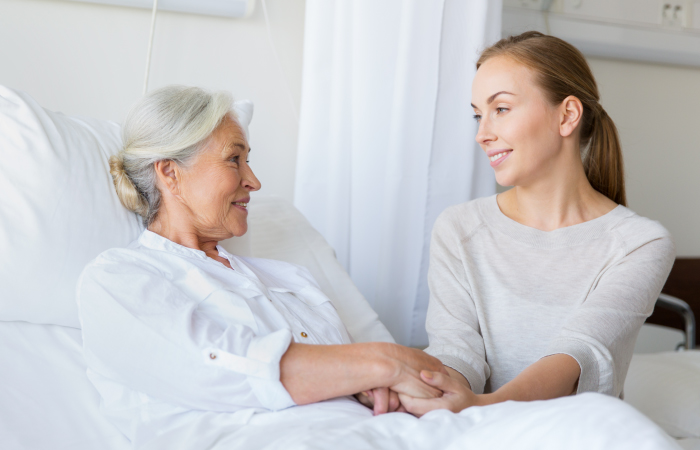 Visitor restrictions are subject to change at any time to address the health needs of our communities in central and southern Illinois.
Wearing a mask is optional for most patients and visitors. Please understand that there are some exceptions when masking will still be required in our HSHS facilities in Illinois.
Masks are still required for patients and visitors who:
May have respiratory illness, or symptoms similar to COVID or the flu.
Have been exposed to someone with COVID in the last 10 days.
Work or live in an area that is experiencing a COVID outbreak.
Visit or care for patients who are in isolation.
Additionally, patients may request that anyone in their care team wear masks in certain situations and we will respect and honor their wishes.
As we continue to monitor community transmission levels of all respiratory illnesses, HSHS reserves the right to require masking at any time, should community transmission levels change.
Threatening or aggressive behavior will not be tolerated. Our hospital is a safe and healing environment. Disruptive persons will be asked to leave our facility.
Important Information for Hospital Visitors
HSHS Holy Family appreciates visitors considerations of our patients' right to privacy. At any time while visiting friends or loved ones, visitors may be asked to leave the patient room in order for the physician or nursing staff to privately discuss the patient's care.

We also ask that visitors recognize the importance of rest in a patients' recovery. Nursing staff may ask visitor's to leave the room if they feel the patient needs additional rest.
If you know someone in the hospital, we do encourage you to call their room for a telephone visit, use your cell phones to text, call or video chat with them.
Loved ones can be checked on by calling Holy Family Hospital Greenville at
618-664-1230
. An operator will connect you to patients' rooms after you provide some information.
Family and support persons should make sure to provide the nursing staff with their contact information.
Thank you for your help in keeping our patients, colleagues and community safe.
Visitation in high-risk areas or for patients with communicable diseases will be at the discretion of department leadership. Similarly, departmental leadership may restrict the number of visitors at any point for the safety of patients and colleagues.
Having the support of your family and friends is an important part of the healing process. While we do our best to accommodate those visiting our hospital, the well-being and safety of our patients is our number one concern.
At Holy Family Hospital, we provide a "healing environment" that doesn't restrict visiting hours to specific times. Therefore, our new visiting hours are 24 hours a day, 7 days a week, 365 days a year. We want our patients to have family and friends visit them as much as possible so that they enjoy their time at Holy Family Hospital.
Emergency Room patients are allowed 2 visitors at a time in the room and others may wait in designated waiting areas.
HSHS Holy Family embraces patient and family-centered care and recognizes that open visitation plays an important role in a patient's healing and recovery.
We ask that you follow these simple courtesies:
Children who are visiting should be accompanied by an adult.




Practice hand hygiene by using hand sanitizers or washing hands with soap and water as you enter and leave the patient's room. Please follow any isolation precautions.




Family members or friends who have a cold, cough, fever, or rash should not visit until they feel better.




Check with the nurse before bringing food and beverages to a patient in case he/she is on a special diet.