Emergency & Trauma Center
HSHS St. Clare Memorial Hospital and Prevea Health have you covered no matter what health issues arise, 24/7, all on the same campus.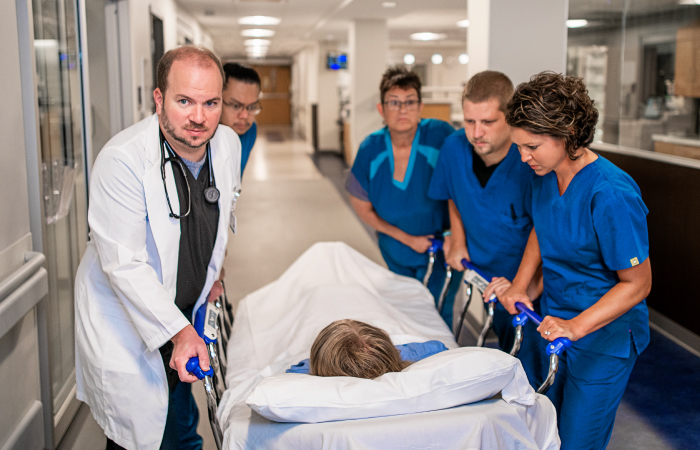 We value your time. If it's an emergency to you, then it's an emergency to us. We treat every patient as a priority.
Call 911 in any situation that requires immediate assistance.
Life-threatening conditions are immediately attended to.
Emergency Department
Staffed 24 hours a day by doctors and advanced practice providers experienced in emergency medicine, HSHS St. Clare Memorial Hospital Emergency Department is the only one of its kind in the area, providing emergency and trauma services. At HSHS St. Clare Memorial Hospital in Oconto Falls, there is always a surgeon on call. We also offer a full complement of diagnostic services including emergency telemedicine, laboratory, CT, MRI, nuclear medicine, sonography and ECG located adjacent to the emergency department. So you can rest easy knowing you and your loved ones are in good hands.
Emergency Care
Call 911 or go to the nearest hospital emergency room if you're experiencing any of the following symptoms:
Chest pain
Loss of consciousness
Poisoning
Seizures
Severe burns
Severe pain
Severe broken bones
Shortness of breath
Sudden paralysis or slurred speech
Suspected overdose of medication
Urgent Care
HSHS St. Clare Memorial Hospital Prevea Health Urgent Care offer quality, accessible walk-in care for every member of the family including:
Animal and insect bites
Cold and flu symptoms
Earaches
Cuts without profuse bleeding but require stitches
Sprains and minor broken bones
Urinary tract infections
Mild to moderate asthma
Minor infections
Rashes and burns
Severe sore throat and cough
Urgent Care Wait Time
Before you get into the car to head to the HSHS St. Clare Memorial Hospital Prevea Health Urgent Care, view the approximate wait time here.

Find both Urgent Care and Emergency Care at:
HSHS St. Clare Memorial Hospital Prevea Oconto Falls Health Center
835 S. Main Street, Oconto Falls
920-846-8187
Find a list of all Prevea Health Urgent Care locations and their wait times, here.
Prevea Care After Hours
If you're not sure whether you should wait to see your primary care provider (PCP) or if you should go to Urgent Care, call your provider's office or Prevea Care After Hours at 920-496-4700 or toll free at 888-277-3832.

Prevea Care After Hours is available to answer medically related questions 24 hours a day, 365 days a year.
Insurance Information
Prevea Urgent Care accepts most health insurance plans, cash, personal check and credit cards. To learn more about your health insurance coverage, please call your plan administrator.
More Emergency Care Services