Area students awarded scholarships
The HSHS St. Elizabeth's Hospital Auxiliary Volunteers Scholarship Committee recently awarded five scholarships to area students through the annual HSHS St. Elizabeth's Auxiliary Volunteer Scholarship program.
The Auxiliary Volunteer Scholarship is offered to St. Elizabeth's Hospital colleagues and volunteers, as well as their spouses, children and grandchildren. The scholarship winners were chosen from a blind process based on volunteer hours, resume and letters of recommendation. Applicants provided a short submission about their career path and goals.
The 2023 recipients were:
• Brittany Harper, of O'Fallon, is a student at Southern Illinois University Edwardsville and works at St. Elizabeth's as a critical care nurse in radiation oncology.
• Lani Culley, of Swansea, is a student at University of Tennessee, Knoxville in industrial engineering.
• Courtney Wolf, of Collinsville, is a student at Saint Louis University in criminology and forensic psychology.
• Kate Koehler, of Belleville, is a student at University of Missouri-Columbia. She is an associate of science biology major.
• Krista Eads, of Highland, is a student at Southwestern Illinois College (SWIC) in the nursing program.
"HSHS St. Elizabeth's Auxiliary Volunteers Scholarship Committee is proud to offer these scholarships to support the educational goals of students from our family of care and beyond so we can continue to grow high-quality health care professionals for our region," said Chance Beeler, DMin, BCC, manager of mission integration, spiritual care and volunteer services at St. Elizabeth's Hospital.
Funding for the annual scholarships is available through the Auxiliary Volunteers' fundraising sales throughout the year.
Volunteers have recently been welcomed back after a COVID hiatus to work in a variety of areas throughout the hospital. Each volunteer is paired with a support job that best suits them. Some duties include working at the information desks in the main lobby and outpatient registration area, escorting patients or visitors to appropriate areas, performing non-clinical rounding, assisting departments with a variety of project-based tasks and more.
Volunteers also plan fundraising events throughout the year to raise dollars for St. Elizabeth's Franciscan Fund.
"All of our volunteers are vital and valued members of St. Elizabeth's caring team and mission to serve our patients, visitors and internal colleagues," said Beeler. "Volunteers bring joy to our patients and to all of us daily, and we are truly blessed to have them."
For more information on the scholarships or volunteer opportunities, visit St. Elizabeth's website at hshs.org/st-elizabeths/community/volunteer or call 618-234-2120, ext. 52132.
###
Photo Caption: HSHS St. Elizabeth's Hospital Auxiliary Volunteers announce the recipients of the 2023 HSHS St. Elizabeth's Auxiliary Volunteer Scholarships. Back Row: Kathleen Mongiovi, Auxiliary Volunteer Board secretary; Steve Mudd, Auxiliary Volunteer Board president; and Mel Weck, Auxiliary Volunteer Board vice-president. Front Row: Scholarship award winners Krista Eads, Kate Koehler, Courtney Wolf and Brittany Harper. Not pictured: Scholarship award winner Lani Culley.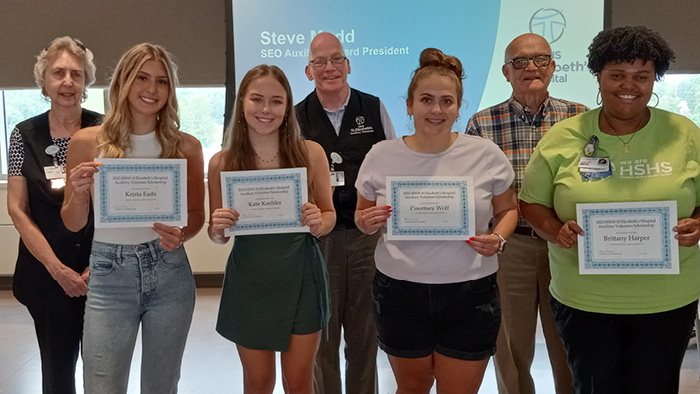 Media Contact
Melissa Athmer
Manager, Marketing & Communications