Blood drive set for June 7
Increased need for blood donors for summer months. Current blood supplies are critically low.
St. Elizabeth's Hospital will be hosting a Blood Drive on Tuesday, June 7 from 11:30 a.m. – 3:30 p.m. in the Boardroom, located on the first floor. Appointments and masks are required. To schedule an appointment, call 800-747-5401 or go to www.bloodcenter.org/group and use code 10155.
Your donation will make a difference. It's easy to rationalize that someone else will fill the need, but when more than 41,000 blood donations are needed every day, each donation matters.. Someone needs blood or a blood product every two seconds in the United States, and on out of every seven people who enter a hospital will need a blood product, according to America's Blood Centers (ABC).
HSHS St. Elizabeth's Hospital Laboratory Director Justin Cox encourages everyone to consider donating. "Donations are important because we do not have an alternative for blood or platelets; they cannot be manufactured," said Cox. "Hospitals use blood every single day to help patients. We want to ensure supply is available for you or a loved one should you need it."
According to Kirby Winn, public relations manager at ImpactLife, "38% of the population is eligible to donate blood. Fewer than 10% actual do. This is a problem. Every day, many Americans depend on blood donations from generous volunteer donors for critical components of their medical care…it is truly the most personal natural resource."
ImpactLife is the local blood provider for 126 hospitals in Illinois, Iowa, Missouri, and Wisconsin, including St. Elizabeth's.
Blood transfusions can be necessary for serious injuries, surgeries, childbirth, blood disorders, anemia and many other conditions and situations. Plasma donations can be vital for patients with liver failure, severe infections and serious burns.
St. Elizabeth's hosts blood drives on a regular basis.. Future drive dates for 2022 are as follows:
August 9
October 11
December 13, 2022
Here are four top reasons to consider making a life-saving blood donation part of your new year:
A donation can save a life, or several lives if your blood is separated into its components – red cells, platelets and plasma
Only 10% of eligible donors donate despite it being a safe and regulated process by the Food and Drug Administration and the American Association of Blood Banks
By donating, you get a fee blood test as your donation is checked for infectious diseases and you are notified immediately if there are concerns.
Blood donation can improve your overall health; Research shows blood donors are 88 percent less likely than others to suffer a heart attack
ImpactLife guidelines for donor eligibility in light of the COVID-19 pandemic. Do not give blood if:
You have a fever, cough, or shortness of breath.
You have been diagnosed with COVID-19 UNTIL 10 days after your recovery (no fever, cough, or other respiratory symptoms and not need for oxygen).
You are waiting for a test result for COVID-19. If it is negative and you are well you may donate. If it is positive, you must wait 10 days from your testing date and be well.
In the last 10 days you have been within six feet of someone who has the virus or is being tested for the virus for greater than 15 minutes without use of personal protective equipment UNLESS you meet the following vaccination criteria: Vaccination Criteria-You are ELIIBLE to donate if exposure to COVID-19 occurred two weeks after receiving the last dose COVID-19 vaccine series (Moderna, Pfizer or Johnson & Johnson).
For more information about how to save and improve quality of life for those in need of blood and plasma, visit ImpactLife at www.bloodcenter.org.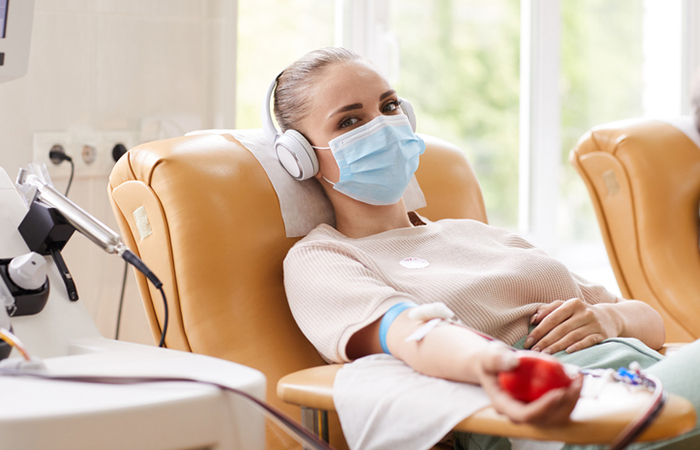 Media Contact
Melissa Athmer
Manager, Marketing & Communications