Three new board members welcomed
HSHS St. Elizabeth's Hospital announces the addition of three new members to the hospital's Board of Directors. This brings the number of board members for St. Elizabeth's to eleven.
Board members serve voluntarily and provide counsel and oversight on decisions that affect the organization's sustainable future and advance the mission.
St. Elizabeth's is pleased to welcome Barbara Cempura, Brian Lemon and Kevin Meder to the Board of Directors.
"As successful community leaders, I appreciate the experience, engagement and governance support that Barbara, Brian, and Kevin will bring to complement our already effective team of board members," said President and CEO Chris Klay.
Barbara Cempura (left, above) was the founder and served as the President and CEO of Big Brothers Big Sisters of Southwestern Illinois from 1980 to 2015 and served as interim CEO in 2018 to 2019.
Brian Lemon (center, above) has served his entire career in health care. Brian last served as President of Northwestern Medicine Central DuPage Hospital Center, where he led CDH, a tertiary community medical center and the 6th largest hospital in metropolitan Chicago.
Kevin Meder (right, above) is a principal at Clifton LarsonAllen concentrating in the tax and business consulting area for closely held businesses. Kevin has more than 34 years as a Certified Public Accountant with extensive experience in manufacturing, construction, real estate, health care and service industries. Prior to joining Clifton LarsonAllen, Kevin was a partner with Ganim, Meder, Childers & Hoering.
Other members of St. Elizabeth's Hospital's Board of Directors include:
Thomas Dinges, Chairperson
Lorraine Cavataio, Vice Chairperson
Todd Smart, Treasurer
Ann McCollum, Secretary
Sister Marguerite Cook, OSF
Georgia Costello, PhD
Scott Crouch, MD
Michael Hall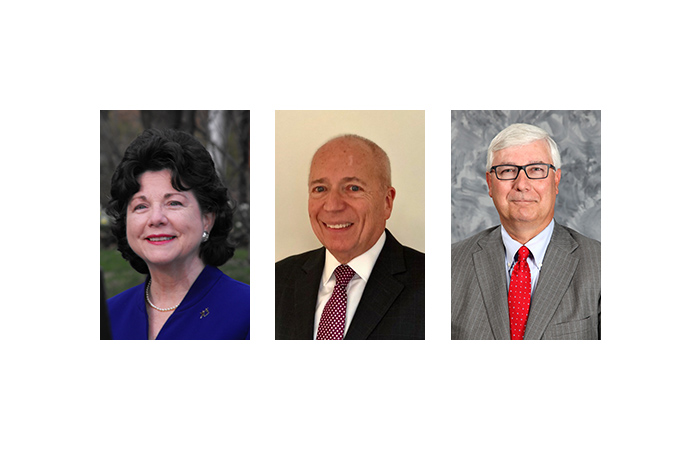 Media Contact
Melissa Athmer
Manager, Marketing & Communications