Campus Map and Parking
Information to help you find your way.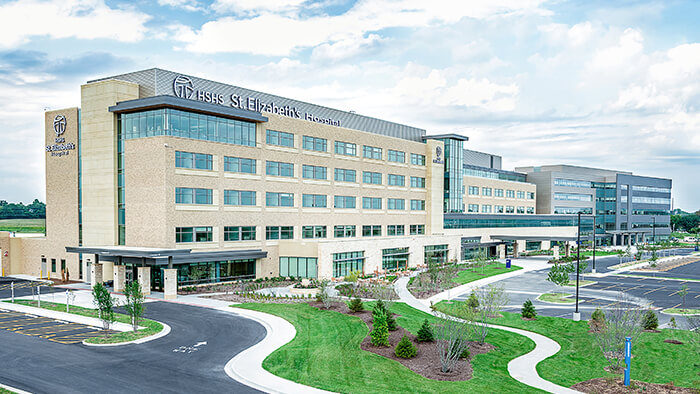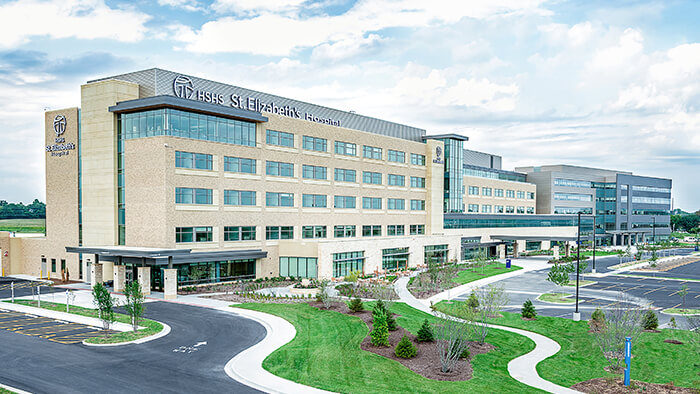 HSHS St. Elizabeth's Hospital
1 St. Elizabeth's Boulevard
O'Fallon, IL 62269
618-234-2120
Located just off of Green Mount Road in O'Fallon, Illinois just off Exit 14 on Interstate 64.
Free valet parking is available 6 a.m. to 6 p.m., Monday through Friday, at the Outpatient Services and the Health Center entrances.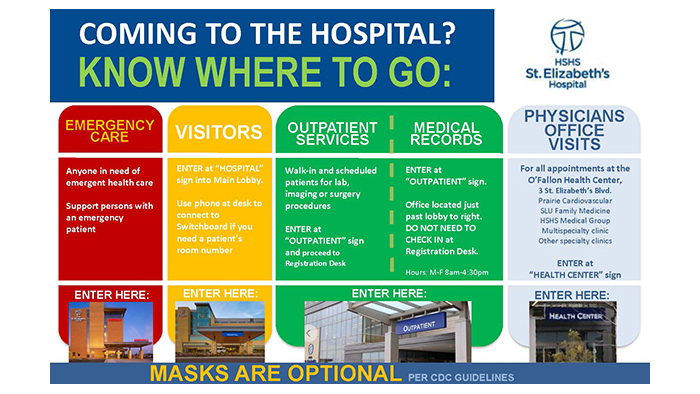 Know your entrance
Understand which entrance to go to for your screenings, tests and services. Follow this handy guide.
Patient privacy and comfort is our goal
Opened in 2017, our goal was to create a healing environment that combines technology and efficiencies to provide region leading, high-quality care. In our state-of-the-art facility, we provide advanced services in surgery, medical imaging, laboratory, and the emergency department, just to name a few. We also hope you enjoy the private rooms, efficiently designed clinical areas which allow nurses to spend more time with their patients at the bedside, and the deluxe amenities offered in our Women and Infants Center.
Throughout the design of this facility, you will see that patient care, privacy and overall experience are HSHS St. Elizabeth's priority. You will come to expect the unexpected as we continue to put patients first.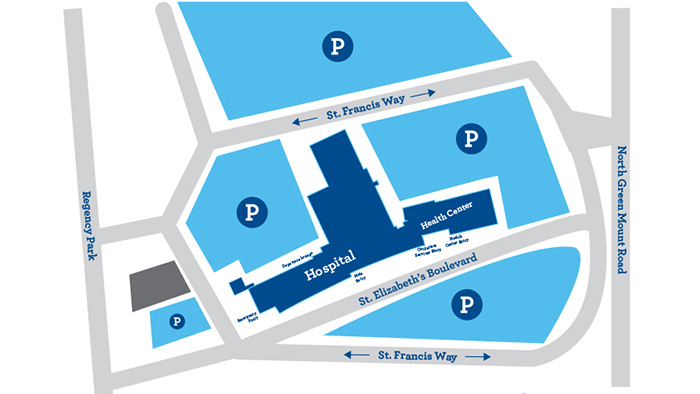 Campus parking
Public parking is available around the hospital campus.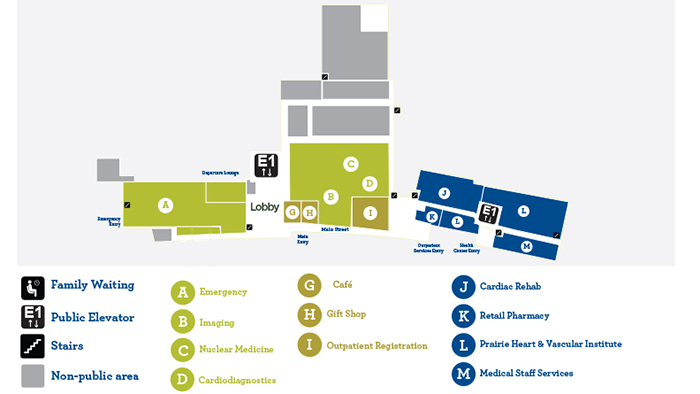 Hospital campus floor guide
The hospital's namesake, St. Elizabeth of Hungary, was credited with building hospitals and giving to the poor. The cherished story of her "Miracle of Roses" was an inspiration for many variations of the rose motif seen throughout the hospital. The abstract interpretation of a rose was custom designed and can be seen in floor patterns, privacy curtains, and glass graphics throughout the hospital.
Second Floor
Intensive Care Unit (ICU)
Operating Rooms
Surgery Prep/Recovery
Post Anesthesia Care Unit (PACU)
Endoscopy
Cath Lab
Electrophysiology Lab
Vascular Lab
Respiratory
Third Floor
Patient Care Unit , Med/Surg
Women and Infant Center

Postpartum
Labor & Delivery
Well Baby & Intermediate Care Nursery
Assessment
C-Section
Fourth Floor
On Call
Progressive Care Unit (PCU)
Fifth Floor
Patient Care Unit, Med/Surg
Dialysis
Chapel & Spiritual Care
Cafeteria, Dining Room and Outdoor Dining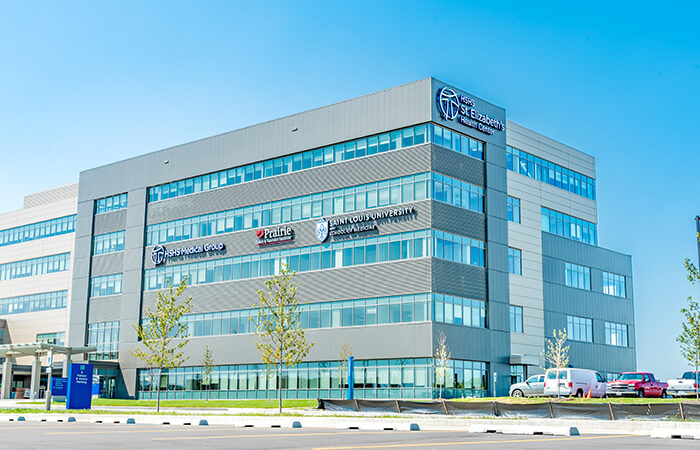 Health Center floor guide
First Floor
Health Center Lobby
Retail Pharmacy
Cardiac Rehabilitation
Prairie Heart and Vascular Institute
Medical Staff Office
Physician Lounge
Health Information Management/Medical Records
Second Floor
Women's Imaging Center – Mammography, Diagnostic Mammography
Infusion
IT
Lab
Prairie Heart Administration
Third Floor
Wound Care Center
Administrative offices
Physical Therapy & Occupational Therapy; Speech, Audiology, EMG/Nerve Conductions,
HSHS Pain Management
Lincoln Surgical
Human Resources/Employee Health
Fourth Floor
Saint Louis University Family Residency
Scott AFB OB/GYN Services
SIHF Healthcare
Fifth Floor
HSHS Medical Group Multispecialty Clinics: Neurosciences, Urology, Pulmonology, Gastroenterology, Orthopedics Surgery & Sports Medicine