Eastertime at St. John's Children's Hospital
For a child, Easter is a special time when the Easter bunny visits, eggs are decorated and hidden, and springtime activities are plentiful.
Thanks to generous donors and volunteers, children staying at HSHS St. John's Children's Hospital did not miss out on the joy of Easter this year. Abby Sgro and family spearheaded an Easter event, donating and planning activities in honor of their daughter Adelie's first birthday. Adelie spent several days in the pediatric intensive care unit this year fighting RSV, and both Sgro daughters spent time in the neonatal intensive care unit (NICU).
"My husband and I knew we had to do something to make sure the babies, children and families spending Easter in the hospital had some sort of celebration and some sense of normalcy," said Sgro. "Holidays in the hospital hit close to home for me. We chose Easter because it falls the day after our sweet Adelie's first birthday."
Pediatric patients and their families enjoyed an Easter egg hunt in the healing garden, a special visit from the Easter bunny, surprise window washers, a visit from children's hospital mascots CJ and Joey, guest readers, cookie decorating, Easter baskets, sing-a-longs and so much more! Each NICU patient also received an Easter onesie.
"Many of our donors are passionate about giving because they have experienced critical and life-saving care at St. John's," said Bev Neisler, HSHS St. John's Foundation chief development officer. "Having events like today's make our work so special. We are grateful to the Sgro family – and all today's helpers – for everything they have done for our patients and their families."
In addition to the Sgro family and other generous donors, the St. John's Family Advisory Board, SIU resident staff volunteers, St. John's College of Nursing students, foundation staff and friends of the family all donated their time and talent to make the event possible.
"My vision and this celebration came together so much better than I could have expected thanks to amazing donors dBoldTees, Cafe Moxo, Heartland Credit Union, Chick-fil-a, Precious Rolando, and the amazing friends and family who donated items for Easter baskets and eggs, as well as volunteered their time today," said Sgro. "All of this is more than worth it if one child, one family, feels happy today."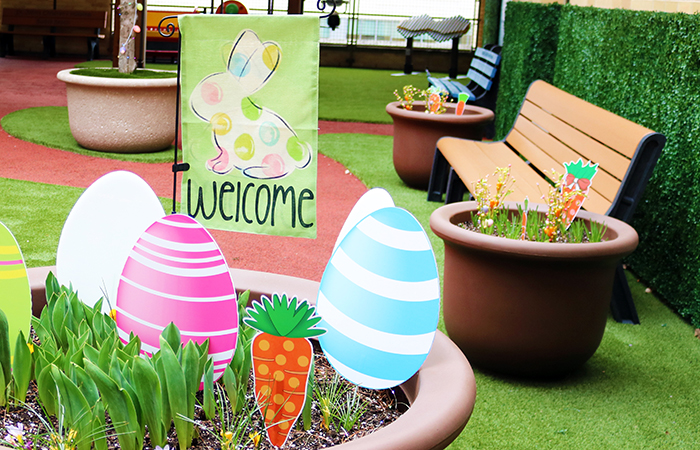 Media Contact
Jennifer Snopko
Manager, Marketing & Communications