Preparing for baby and delivery
Let us help you prepare for baby's arrival.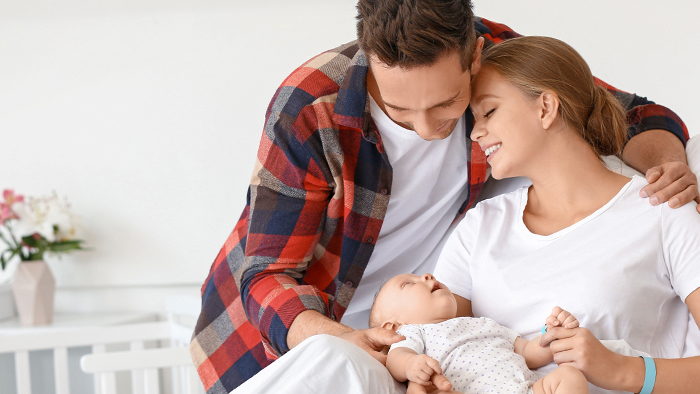 Because we offer so many services for expectant families, St. John's has an experienced team member from the Women and Infants Center available to answer any questions you may have. This team member can also guide you through the prenatal class registration and hospital pre-registration process.
To learn more, call 217-744-BABY (2229) or email us at SJS-RS-WomenCare@hshs.org
Preparing for baby checklists
Choose a pediatrician or family practice physician to take care of your baby. Before you make a choice, make sure he/she is covered by your insurance company. You may want to make an appointment or a phone contact with your potential choices before you make a decision. If your baby's health care provider is from outside Springfield, our newborn nursery hospitalist will care for your baby during your hospital stay. At discharge, your baby's care will be transferred back to your local provider.
Make childcare arrangements for any children left at home when you come to the hospital.
Make arrangements for pet care, if needed.
If you are returning to work, find/hire a licensed day care provider for your baby.
Try a practice driving route to the Carol Jo Vecchie building/Women and Infants Center. When you go into labor:
If arriving between 5 a.m. - 10 p.m., go to the Women and Intants.Center entrance, located right off Ninth Street.
If you are arriving between 10 p.m. - 5 a.m., go to our emergency department entrance.
Call your insurance company. Find out if you need any type of pre-certification and find out how long you can stay. Make sure to write down who you spoke with, the date, and what information they gave you.
Have the following items ready at home: clothing, blankets, diapers and other essential baby layette items. It is always best to pre-wash any clothes/blankets before dressing your baby in them.
If you are planning to formula feed your baby, please make sure you have a supply of formula, bottles and nipples on hand for when you arrive back home. The hospital only provides formula for your baby during your hospital stay.
Get a car seat for your baby. The seat should be less than six years old, have its instructions and all of its parts. If you are not the original owner you must know if the seat has ever been in a crash (a local fitting station can tell you if the seat is usable.) Bring the seat with its instructions to the hospital with you. Please do not add anything to the seat that didn't come with it in the box.
After you have installed the car seat in your vehicle, make an appointment at one of our local fitting stations (all staffed by certified technicians) to double check that your seat is correctly installed. We strongly encourage you to have this done by your eighth month of pregnancy and definitely prior to your admission.
A month before your baby is due, pack your bag for the hospital.
Your insurance card or medical card (required at admission desk)
Childbirth class book and booklets from prenatal classes
Copies of your birth plan
Relaxation music
Lip balm
Massage oil or lotion
Camera, extra batteries
List of people to notify of baby's birth
Cell phone (you are allowed to use this in the Women and Infants Center area)
Baby book (for footprints, guest signatures)
Clothes and shoes to wear home (a loose outfit that you could wear at five months pregnant)
Items to entertain your other children (DVDs, games, books)
Copies of your Living Will and/or Power of Attorney, if you have them
Robe, socks, slippers, nightgown
Bras: If breast feeding - 2 nursing bras; if formula feeding - well-fitted maternity or sports bra
Your breast pump if you already have one from your insurance company
Shampoo, conditioner, comb/brush, other hair care items
Deodorant, lotion, toothbrush and toothpaste
Clothes for hospital baby photo and/or for going home
Socks or booties
Hat or cap if desired
Infant car seat (Illinois law requires your baby to use one)
Three receiving blankets (for use in car seat)
One heavy blanket (to cover car seat)
If formula feeding: a pacifier, if you plan to use (hospital does not provide any)
Change of clothing
Snacks
​Change for vending machines
Blow dryer
Hospital gowns
Disposable panties and sanitary pads
Baby gowns and blankets (will need your own for home)
Enough disposable diapers for your hospital stay (have a supply ready at home)
If formula feeding: ready to use bottles of formula (you will need your own supply for home)