HSHS St. Joseph's Hospital Highland is inviting community members and area businesses to join them on Friday, March 3 for "Dress in Blue Day" to bring awareness to colorectal cancer and honors all who are impacted by it. If you are unable to dress in blue on March 3, please join in any day of the month to raise awareness as all of March is National Colorectal Cancer Awareness Month.
St. Joseph's Hospital Highland would like to share photos of community members supporting those with colorectal cancer. Any group or business that sends a photo to Debbie Elledge at St. Joseph's Hospital will be considered for a feature on the hospital's Facebook campaign to support awareness (follow us at facebook.com/stjosephshighland). Photos can be taken with a camera or cell phone and can be emailed to Debbie.Elledge@hshs.org. Please email the photo as original size/high resolution.
Additionally, if a local business would like a sign to display in your storefront to help raise awareness, please also contact Debbie.Elledge@hshs.org.
According to the Colorectal Cancer Alliance, an estimated 153,020 people will be diagnosed in 2023 with this highly preventable disease. They will join more than 1.4 million colorectal cancer patients and survivors living today. Go blue for them, their families, and their community.
Who Should Be Screened
Colorectal cancer is cancer of the colon or rectum and is the third leading cause of death for both men and women, according to the American Cancer Society. An estimated 52,550 people in the U.S. are projected to die of colorectal cancer in 2023. People at an increased risk for colorectal cancer include those with:
• Personal or family history of colorectal polyps or cancer.
• Personal history of breast, uterine or ovarian cancer.
• Chronic ulcerative colitis or Crohn's disease.
However, many of those who will be diagnosed with colorectal cancer will not have a family history and will have no symptoms.
The U.S. Preventive Services Task Force (USPSTF) and the American Cancer Society now recommend adults aged 45 to 75 be screened for colon cancer, and adults aged 76 to 85 ask their doctor if they should be screened. Previously, it was recommended adults begin colon cancer screening at age 50.
It is encouraged to discuss your risks and screening recommendations with your primary care provider.
Lowering Your Risk
In addition to regular screening for colorectal cancer, you may also be able to lower your risk by:
Avoiding foods high in fat.
Adding plenty of vegetables, fruits and other high-fiber foods to your diet.
Exercising regularly and maintaining a normal body weight.
Not smoking.
Drinking alcohol only in moderation.
Warning Signs
Warning signs of colorectal cancer can include:
Blood in or on the stool.
Recurring shifts in normal bowel habits such as experiencing diarrhea or constipation for no known reason.
Thinning of the stool.
Increases in stomach discomfort (bloating, gas, fullness and/or cramps that last more than a few days).
A feeling that the bowel does not empty completely.
Weight loss for no known reason.
Constant and unexplained fatigue.
For more information, visit cancer.org/cancer/colon-rectal-cancer.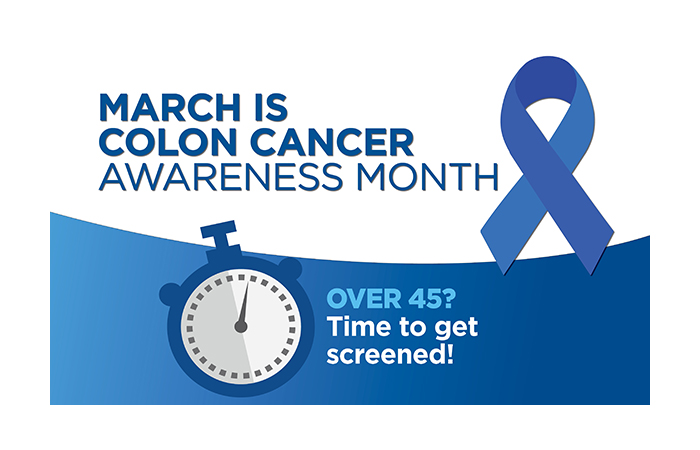 Media Contact
Ashley Gramann
HSHS Illinois Communications Manager