Cancer Care
Comprehensive On-Site Cancer Program Available! Receiving a diagnosis of cancer is difficult, but now getting the local treatment and support you need is not.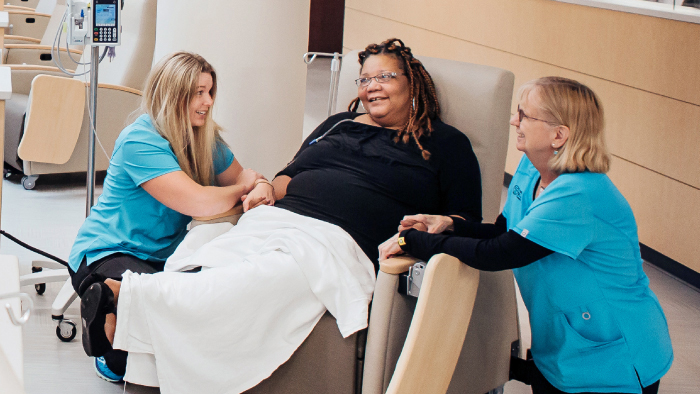 Cancer Care Program
Our cancer care program at the hospital, overseen by Dr. Mark Walshauser, Specialist in Cancer & Blood Diseases - Triple Board Certified in Internal Medicine, Hematology & Medical Oncology offers a full spectrum of clinical and support services - everything from screening and diagnostics to treatment and counseling. Patients can even participate in clinical trials, with access to our state-of-the-art oncology program located on the first floor of the new Medical Office Building right here in Highland.
Services
Initial Consultation/Exams
Genetic Testing/Evaluation to Determine Cancer Risk
Chemotherapy Treatment
Hormone Therapy
Pain Management
Immunotherapy
Clinical Trials
Hematology
Medical Oncology
Cancer Registry
Tumor Board Case Reviews
Hospice Family Suite
Cancer Support Groups
Palliative Care Program
Stereotactic Breast Biopsies
Choose HSHS St. Joseph's for Comprehensive Cancer Care
HSHS St. Joseph's Hospital is dedicated to reducing the burden of cancer on the people of Highland and beyond through an integrated program of excellence in research, education, prevention and treatment.
Patients can be referred by their physician or schedule an appointment directly by calling 618-651-2888.