Here with you for memorable milestones
From welcoming a new life to celebrating a life well lived and all the moments in between, your heart beats for those you love.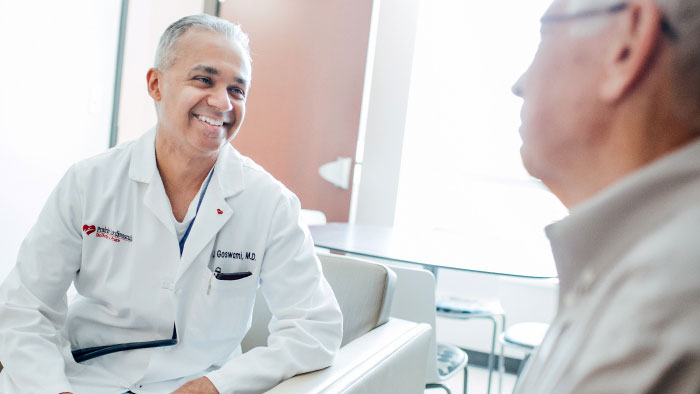 PRAIRIE HEART INSTITUTE AT HSHS ST. JOHN'S HOSPITAL
We know that a healthy heart is as important to them as it is to you. From high cholesterol to high blood pressure and comprehensive heart and vascular care, our team will be right by your side with expert, compassionate care focused on getting you back to those who matter most.
With access to more than 117 heart specialists, the doctors at Prairie Heart Institute provide the highest quality of heart care from diagnostic services to treatment to rehabilitation.
To schedule an appointment with a Prairie physician online, or obtain a second opinion, call 217-757-6120. Same day, next day appointments are available in Springfield.
Heart Care Procedures
Minimally invasive valve replacement (TAVR)
Abdominal aortic and thoracic aortic aneurysm endographs
Ablation of complex arrhythmias
Balloon angioplasty and drug-coated stents
Coronary rotational atherectomy
Carotid stents
Defibrillator implantation
Diagnostic cardiac catheterization
Electrophysiologic evaluation of complex arrhythmias
Evaluation of cardiac valves
Evaluation of congenital heart disease
Pacemaker implantation
Peripheral vascular interventions of both arteries and veins
Audicor testing
Bio-Z
Cardiac and vascular ultrasound
Cardioversions
Doppler exams
Electrocardiograms
Holter monitoring/Arrhythmia monitoring/Pacemaker checks
Nuclear stress testing
Pediatric Cardiology Clinic
Pre-admission testing (chest X-rays and blood tests)
Stress echocardiography
Transesophageal echocardiography
Beating heart bypass surgery
Coronary artery bypass graft surgery
General thoracic surgery
Heart valve replacement and repair
Laser pacemaker lead extraction
Minimally invasive atrial ablation surgery
Minimally invasive valve replacement or repair surgery
Pacemaker and defibrillator implantation
Vascular surgery (aortic, cerebrovascular, renal and peripheral)