HSHS St. Nicholas Hospital presents: A Visit with St. Nicholas
Sheboygan – HSHS St. Nicholas Hospital warmly invites community members to attend A Visit with St. Nicholas, an event embracing the traditional spirit of Christmas and celebrating the hospital's patron saint who was a friend to all children.
A Visit with St. Nicholas will take place from 5 to 7 p.m. on Monday, Dec. 5 on the campus of HSHS St. Nicholas Hospital, 3100 Superior Ave. in Sheboygan, outside near the Chapel entrance.
Timeline of events
5 to 6:30 p.m.: Meet and take photos with St. Nicholas
6:30 to 7 p.m.: Reading of The Christmas Story, and Christmas songs performed by Catholic North Youth Choir and St. Dominic's Adult Choir.
Hot cocoa and cookies will be served, and the first 200 children in attendance will receive a goodie bag. A friendly reminder to dress warmly as this is an outdoor event!
A donation is not required to attend, however, in the spirit of St. Nicholas and the Christmas season, attendees are invited to bring a new pair of shoes (any size) to be donated to a local charity.
For more information: https://www.hshs.org/StNicholas/Events/Community-Events/A-Visit-with-St-Nicholas
***Please note: HSHS St. Nicholas Hospital is also hosting the St. Nicholas Eve Gala in December, which is a separate event. For more information on the Gala, click here.
###
About HSHS St. Nicholas Hospital
HSHS St. Nicholas Hospital has been delivering high quality health care to Sheboygan and its surrounding communities since 1890. HSHS St. Nicholas Hospital provides a comprehensive range of services that include cancer care, women's services, 24-hour emergency care, digestive health, orthopedics, cardiac, home health and hospice care. The hospital's primary purpose is to continue Christ's healing love through the delivery of high quality and compassionate health care in an environment sensitive to the needs of all people. HSHS St. Nicholas Hospital is accredited by the Joint Commission of Accreditation of Healthcare Organizations. An affiliate of Hospital Sisters Health System, we draw on the history of St. Francis of Assisi as we move to continue serving the health care needs of our area in Christ's healing ministry, caring for all people. To learn more, visit www.stnicholashospital.org.
About Hospital Sisters Health System
Hospital Sisters Health System's (HSHS) mission is to reveal and embody Christ's healing love for all people through our high quality, Franciscan health care ministry. HSHS provides state-of-the-art health care to our patients and is dedicated to serving all people, especially the most vulnerable, at each of our 15 Local Systems and physician practices in Illinois (Breese, Decatur, Effingham, Greenville, Highland, Litchfield, O'Fallon, Shelbyville and Springfield) and Wisconsin (Chippewa Falls, Eau Claire, Oconto Falls, Sheboygan, and two in Green Bay). HSHS is sponsored by Hospital Sisters Ministries. For more information about HSHS, visit www.hshs.org. For more information about Hospital Sisters of St. Francis, visit www.hospitalsisters.org.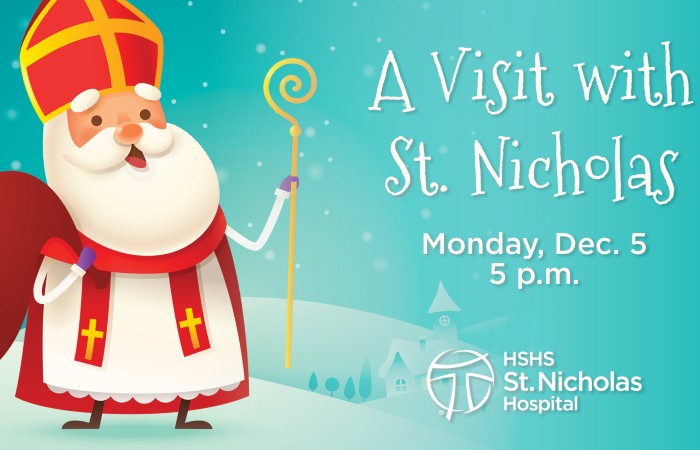 Media Contact
Angela Deja
Director, Public Relations and Communications