Cancer Services
Medical oncology, hematology and radiation services at HSHS St. Nicholas Hospital are a department of HSHS St. Vincent Hospital Cancer Centers.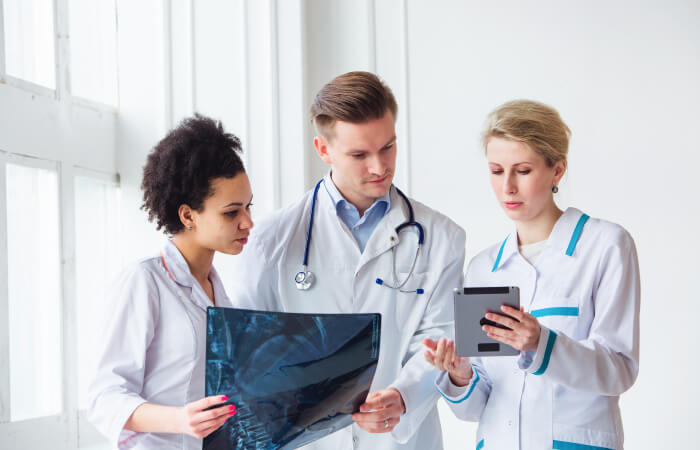 These services are located at HSHS St. Nicholas Hospital in Sheboygan. Patients enjoy a private entrance for cancer care.
Green Bay Oncology, the region's leading group of medical and radiation oncologists, has an enhanced partnership with HSHS St. Vincent Hospital Cancer Centers. Our organizations have collaborated for more than 35 years to provide cancer services for local communities. Together we have brought life-saving and innovative cancer treatment trials to Northeast Wisconsin and Upper Peninsula patients, serving tens of thousands of patients over that time. To schedule an appointment call (920) 884-3135 or toll free (866) 884-3135.
Our commitment
One of the nation's leading cancer programs is right here, in Sheboygan. The experts at HSHS St. Vincent Hospital Cancer Centers are on the leading edge of cancer research and personalized medicine.
Our program includes the largest team of oncology specialists in the region, including medical and radiation oncology, the region's only fellowship-trained female gynecologic oncologist, Green Bay's only fellowship-trained surgical oncologist, fellowship-trained colon and rectal surgeons and the only pediatric hematologist/oncologists. Together, they stand ready to work hand-in-hand with a multitude of other skilled experts to help our patients during one of the most critical times of their lives.
Nationally recognized
We are committed to reducing the burden of travel for patients. Each week, our oncologists travel to regional communities to help deliver high quality cancer care, at a location close to home. For over a decade, our program has been recognized by the National Cancer Institute for our expertise in clinical research enabling us to provide the leading edge cancer treatments and offer more options to patients than any other cancer program in the area.

HSHS St. Vincent Hospital Cancer Centers has been accredited by the Commission on Cancer for more than 55 years and is currently recognized as an Integrated Network Cancer program – the highest level of accreditation possible for a non-teaching hospital.
HSHS St. Nicholas Hospital offers compassionate care including a complete range of state-of-the-art services and equipment, and the latest in advanced breast diagnostic imaging.
A multidisciplinary team coordinates the best available treatment options that includes access to cancer clinical trials through our affiliation with the NCI recognized HSHS St. Vincent Cancer Research Institute.
Contact us: HSHS St. Nicholas Hospital Cancer Center 920-884-3135.
HSHS St. Vincent Hospital Cancer Centers locations:

HSHS St. Vincent Hospital Cancer Centers at HSHS St. Nicholas Hospital

1621 N. Taylor Drive, Suite 300, Sheboygan, WI 53081

HSHS St. Vincent Hospital Cancer Centers at HSHS St. Vincent Hospital

835 S. Van Buren St., Green Bay, WI 54301

HSHS St. Vincent Hospital Cancer Centers at HSHS St. Mary's Hospital Medical Center

1726 Shawano Ave., Green Bay, WI 54303

HSHS St. Vincent Hospital Cancer Centers at HSHS St. Clare Hospital Medical Office Building

853 S. Main St., Suite C, Oconto Falls, WI 54154

HSHS St. Vincent Hospital Cancer Centers at Door County Cancer Center

323 S. 18th Ave., Sturgeon Bay, WI 54235