Digestive Health
Advanced treatment & compassionate care from the the most credentialed digestive health specialists in Northeast Wisconsin.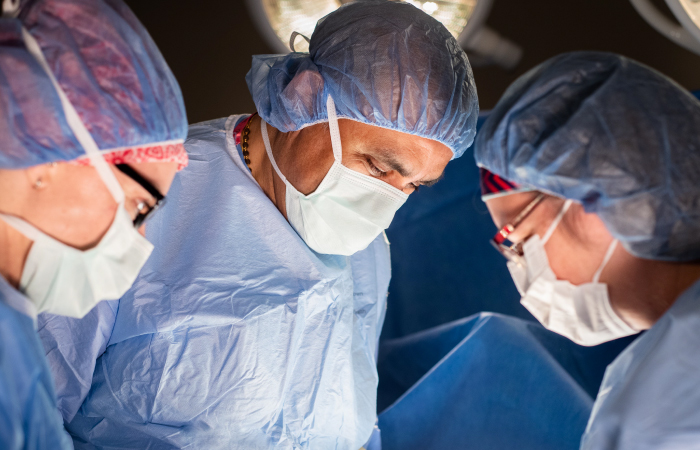 The Prevea Health gastroenterology (GI) team provides caring, collaborative and state-of-the art prevention, diagnosis and treatment of digestive disorders at HSHS St. Nicholas Hospital. Our board-certified gastroenterologists specialize in the full array of digestive health issues that involve the esophagus, stomach, small bowel, colon, pancreas, gallbladder and liver.
Prevea's Digestive Health team is dedicated in addressing your digestive health issues and providing you with the most effective and latest treatments for digestive diseases and conditions. While Prevea providers will diagnose and manage your care, most procedures to diagnose conditions are done at HSHS St. Nicholas Hospital.
If you think you are experiencing digestive health related issues, please call 920-429-4400 to set up an appointment.
Conditions
BRAVO pH testing
Capsule endoscopy
Celiac plexus block
Colonoscopy
EGD (upper endoscopy)
Endoscopic mucosal resection
Enteroscopy
Esophageal manometry
Fecal transplantation
HALO
Hemorrhoid banding
Procedures
Our staff performs thousands of minimally invasive endoscopic procedures annually, including colonoscopy, small bowel enteroscopy and endoscopic ultrasonography. Procedures are performed in the hospital, but allow you to return home the same day.
Digestive Health Procedures include:
This procedure has revolutionized the diagnosis of small bowel disorders by providing a sensitive (able to identify subtle abnormalities) and simple (non-invasive) means of examining the inside of the small intestine.

A vitamin-sized capsule that contains a video camera is swallowed and takes pictures of your small intestine. It captures the images in a data recorder box, later creating a video for your doctor to evaluate. This procedure has been done on patients experiencing chronic abdominal pain or gastrointestinal bleeding.
If you're 45 years of age or older, or have a family or personal history of colon cancer or polyps, it's time to think about having a colonoscopy. Colorectal cancer is the third most common cancer and third leading cause of cancer-related deaths in the United States. The good news? It's also one of the most preventable. Early detection of colon cancer can save lives.

Colon cancer often begins as a noncancerous growth. During a colonoscopy, the most common colon cancer screening method, your doctor can detect and remove these growths long before they have the opportunity to become cancerous. The death rate from colon cancer has been dropping during the past 15 years, mainly as a result of increased screening.

Prevea Health's gastroenterologists perform colonoscopies using state-of-the-art colonoscopy equipment, including high-definition monitors that allow for the most thorough exam and polyp removal, at HSHS St. Nicholas Hospital. We offer private rooms and bathrooms for preparation and recovery.
Most insurance providers, including Medicare, cover colonoscopies.

If you haven't had a colonoscopy in the past 10 years, please consider scheduling one today by calling Prevea Digestive Health at 920-457-4400.
During an EGD, the doctor passes a gastroscope — a flexible tube that is thinner than most food you swallow—through the mouth and back of the throat into the upper digestive tract. This gastroscope allows physicians to examine the lining of the esophagus, stomach and duodenum (the first portion of the small intestine).
Using this technology, abnormalities suspected by X-ray and others that are too small to be seen on X-ray can be detected. If the doctor sees a suspicious area, he can pass an instrument through the endoscope and take a small piece of tissue (a biopsy) for examination in the lab. Other instruments can also be passed through the endoscope without causing discomfort, including a small brush to wipe cells from a suspicious area for examination in the laboratory (a form of pap test or cytology) and a wire loop or snare to remove polyps (abnormal, usually benign growth of tissue).
EGD helps physicians find:
Inflammation of the esophagus, stomach and duodenum
Upper gastrointestinal bleeding
Stomach and duodenal ulcers
Early cancer
During an enteroscopy, a thin, flexible tube is inserted through the mouth and into the upper gastrointestinal tract. Sometimes, a balloon may be attached to the endoscope and inflated to allow the doctor to reach deeper into the small bowels. Tissue samples removed during enteroscopy are sent to the lab for examination.
This test is most often performed to help diagnose diseases of the small intestines. It may be done if you have:
Abnormal X-ray results
Tumors in the small intestines
Unexplained diarrhea
Unexplained gastrointestinal bleeding
Push enteroscopy is a procedure that allows diagnosis and treatment of diseases in the upper small intestine. Push enteroscopy reaches further into the small intestine than the standard upper gastrointestinal endoscopy (also known as esophagogastroduodenoscopy or EGD).
Endoscopic retrograde cholangiopancreatography (ERCP) allows a minimally-invasive approach to the diagnosis and treatment of bile duct and pancreatic disorders.
ERCP is used to detect:
Gallstones, which are trapped in the main bile duct.
Blockage of the bile duct.
Yellow jaundice, which turns the skin yellow and the urine dark.
Cancer of the bile ducts or pancreas.
Pancreatitis (inflammation of the pancreas).
Endoscopic ultrasonography (EUS) is a minimally invasive procedure that uses a small, flexible tube called an echoendoscope. The echoendoscope has a miniature ultrasound probe and uses sound waves to generate an image of the area that needs to be examined.
There are two types of EUS:
An upper EUS enters through the mouth.
A lower EUS enters through the anus.
EUS allows your doctor to examine your esophagus, stomach lining, the walls of the upper and lower gastrointestinal tract, and organs near the gastrointestinal tract like the lungs, liver, gallbladder and pancreas.
Images provided by EUS are more comprehensive than other imaging tests. EUS provides detailed images of your digestive tract and other organs around it to evaluate conditions such as:
Bile duct stones and obstruction
Esophageal cancer
Gastric cancer
Liver cancer
Pancreatic cancer
Pancreatic cysts
Pancreatitis
Rectal cancer
EUS can also evaluate abnormalities such as lumps or lesions, found on previous diagnostic tests, as well as help to determine the stage of certain cancers of the digestive tract and respiratory system. In some cases, EUS can be used to biopsy an abnormality to determine the best treatment option.
Fecal microbiota transplantation (FMT) introduces fecal bacteria derived from a healthy donor into the gastrointestinal (GI) tract of a diseased individual. It is primarily used for the treatment of Clostridium Difficile colitis.
A fecal microbiota transplantation is conveniently administered during a colonoscopy. The fecal bacteria come from extensively-screened, healthy donors in a certified lab. Family members may also volunteer as potential donors.
BRAVO pH testing
Celiac plexus block
Endoscopic mucosal resection
Esophageal manometry
Hemorrhoid banding
Spyglass
Stenting of esophageal, duodenal, biliary and colonic cancers