Hematology-Oncology
The only full-time team in northeast Wisconsin caring for kids fighting cancers and blood disorders.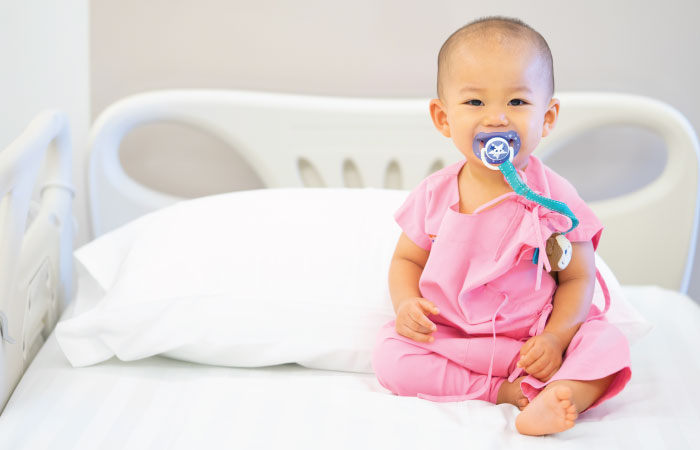 Prevea's pediatric hematologists-oncologists at HSHS St. Vincent Children's Hospital have expertise in diagnosing and treating patients with childhood and adolescent blood disorders (hematology) and cancers (oncology). Should you need it, we provide the only pediatric oncology and hematology team available 24/7 in Green Bay, giving you peace of mind and expertise close to home in a colorful, child-friendly environment that is welcoming for all ages.
Questions? Call Pediatric Hematology-Oncology at 920-433-8670.
HSHS St. Vincent/Prevea Health Pediatric Hematology and Oncology Tour
Check out this video tour of the kid-friendly spaces we've created for our pediatric hematology-oncology patients and their families
The goal of our child life specialists is to facilitate a positive experience during hospital stays and throughout a child's health care journey with cancer or blood disorders.
Child life specialists are professionally trained and experienced in the field to help children fully understand their medical condition, tests and procedures using play and age appropriate explanations. This encourages children to express feelings and correct any misconceptions they may have. The specialists accompany children to their tests, provide distraction techniques and teach coping skills during treatment. The Child life specialists also support the entire family, working with siblings to prepare for visits to see their hospitalized brother or sister and helping to reduce any stress they may feel.
Pediatric hematology-oncology is proud to be a member of the Children's Oncology Group, the world's largest organization devoted exclusively to childhood and adolescent cancer research. As a Children's Oncology Group member institution, HSHS St. Vincent Children's Hospital participates in clinical trials in order to bring expert research to the bedside of patients.
We're committed to providing compassionate, competent and consistent inpatient and outpatient care. When it's time to transition back to your child's primary care provider for follow up appointments, therapy and monitoring long term health goals, your same team of dedicated doctors, nurse practitioners, nurses, Child Life and support staff at the hospital will work closely together to coordinate care between the hospital setting and clinic setting for ongoing seamless care.
Our team of highly-skilled experts includes a compassionate team who is dedicated to keeping children comfortable while providing the highest-quality of care. With physicians, nurse practitioners and registered nurses who are specially trained in managing treatments for patients diagnosed with cancers and bleeding disorders, the pediatric hematology-oncology care team is experienced in providing all aspects of care — from chemotherapy, biotherapy, procedural sedation and pediatric advanced life support, to the supportive, compassionate care you expect and deserve.
Meet our Pediatric Hematology-Oncologists
The area's only dedicated doctors trained to care for children who are hospitalized or in need of intensive care are here when you need them most. Pediatric intensivists provide medical management and care for children in critical care, following major surgery, and with conditions that require procedural sedation.
These intensivists work closely with the pediatric hematology-oncology physicians, nurse practitioners and pediatric nurses so everyone in your family gets the best possible care. They'll also work with local and regional primary care doctors to ensure continuity of care and communication.
In order to diagnose, monitor and best treat disease, pediatric hematology-oncology patients undergo many tests and procedures as part of their treatment plan. While some tests are quick and painless, sedation is available for others to reduce anxiety or pain. The pediatric procedural sedation program includes a team of a specially-trained doctors, nurses and child life specialists who work together to:
Evaluate and determine the best sedation method.
Provide distraction and comfort techniques for the patient prior to sedation and during procedures.
Administer the medicine for sedation.
Monitor the patient closely prior to the sedation, during the procedures, and throughout recovery from sedation.
Throughout procedures, the highly trained and experienced sedation team closely monitors the child's vital signs. Once the procedure is complete, the child is monitored until he or she is fully awake.
At HSHS St. Vincent Hospital Regional Cancer Center, a radiation oncologist, along with a specialized team, provides radiation treatments to children of all ages.
Radiation oncologists are physicians with advanced training who partner with pediatric oncologists in choosing whether radiation therapy may be an appropriate course of treatment and the type of radiation therapy a child or young adult may receive. By leading the radiation oncology clinical team, from the initial consult through follow up care, they prescribe the appropriate radiation therapy treatment plan and provide close patient management throughout the course of treatment.
Our radiation oncologist works closely with the entire radiation oncology team of experts - including physicists, dosimetrists, radiation therapists, child life specialists and the procedural sedation team - to deliver safe and effective treatments.
In our colorful, patient-friendly environment at HSHS St. Vincent Children's Hospital, you have access to:
Diagnosis and treatment of:

Childhood cancers, including leukemia, lymphomas, Hodgkin's disease, kidney tumors, liver tumors, neuroblastoma, retinoblastoma, sarcomas and brain and spinal tumors
Bone marrow failure
Blood disorders, including anemias
Bleeding disorders, including hemophilia and von Willebrand disease

Chemotherapy
Biotherapy
Clinical trials through the Children's Oncology Group
Blood transfusions
Radiation oncology
Cancer survivorship care plans
Procedures including:

Central line and port placements
Lumbar punctures
Bone marrow biopsies and aspirations

Imaging, scans and testing: X-ray, bone scan, CT, MRI, MIBG, PET, ultrasound, echo, EKG, audiology and pulmonary function testing
For children ages 5-12 with a loved one affected by cancer.
When a loved one has cancer, it affects everyone in the family – including kids. Sometimes they need special attention, coping ideas and age-appropriate explanations. Sometimes they benefit from being around others who are going through similar experiences. That's why, each month, HSHS St. Vincent Children's Hospital and our Child Life Specialists provide a safe, warm and welcoming environment for children who have a loved one battling cancer.