Pediatric Intensive Care Unit (PICU)
During those moments when your child's care becomes your family's only mission, our compassionate pediatric specialists are available to you. Close to home, in Green Bay.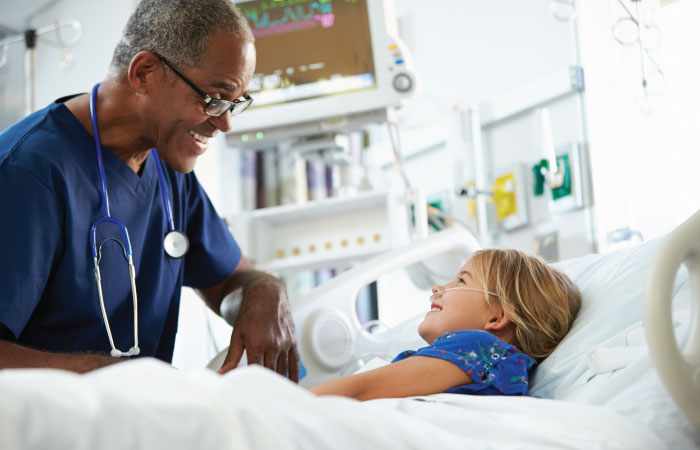 There are two new pediatric units at HSHS St. Vincent Children's Hospital, a pediatric intensive care unit (PICU) and a pediatric inpatient unit. The PICU is a critical care unit for children who are critically ill and require intensive medical care. The pediatric inpatient unit is for children who need to stay at the hospital, but aren't as critically ill. They are located next to each other on the same floor to make transfer between units, if necessary, as easy as possible for families.
In a newly designed space where every detail is tailored to kids, medical care is carefully planned to provide the most advanced level of care for infants, children and young adults up to age 21 by a highly trained and experienced team of pediatric intensivists, pediatric nurses and other health care professionals. It's all available to you close to home, at the only children's hospital in Green Bay. We've gone the distance to offer the best health care for your child, so you don't have to!
If you have other children at home and you're concerned or have questions about how to talk to your child during your stay in the PICU or pediatric unit, Child Life Specialists at HSHS St. Vincent Children's Hospital can help. They are trained to help siblings and families deal with hospital experiences. If you are interested in speaking or meeting with a Child Life Specialist, call
920-433-8641
or notify your child's nurse or doctor.
A pediatric intensivist is a physician who specializes in critical care medicine for children. These physicians handle emergencies such as trauma, critical heart or lung disease, car accidents, or near-drowning that requires admission to the pediatric intensive care unit (PICU) at HSHS St. Vincent Children's Hospital.

Pediatric intensivists also care for children following major surgery, or who have a condition that interferes with breathing or requires the support of a respirator. Intensivists work closely with certified pediatric nurses so everyone in your family gets the best possible care.
Hand washing is the single most important measure you can take to control infection in the PICU. Please wash your hands using soap and water or the water-less hand washing solution provided in the module before entering and after leaving patient rooms.

If your child requires special isolation, you will be required to wear protective coverings, including a gown, gloves and/or a mask. Our pediatric staff will be happy to assist you with this.
Expert care for hospitalized pediatric patients.
Major medical, surgical and trauma care.
Pediatric procedural sedation.
Pediatric bronchoscopy.
24-hour pediatric intensive care coverage.
Certified Pediatric Advanced Life Support (PALS) nurses.
Access to pediatric critical care transport team.
Access to child life specialists.
All nurses have special certification and training in pediatric care from appropriate pain relief techniques to performing special procedures.
A pediatric case manager and pediatric registered dietitian are resources to parents who have questions or concerns about their child's care or progress.
Pediatric-trained physical, occupational, and speech therapists provide inpatient and outpatient therapy based on the child's treatment plan.
If a child needs home care, home health-trained pediatric nurses will come to the child's home to help provide treatment.
Transportation from outlying areas. Children who need medical care at HSHS St. Vincent Children's Hospital may arrive in an ambulance, via Eagle III* with specially trained transport nurses, or via ambulance. This close collaboration allows for seamless care, which starts with pickup at the referring facility, and continues with care in St. Vincent's Emergency Department or one of the Pediatric Units.
*Eagle III is a joint effort of St. Vincent Hospital, Bellin Hospital, and County Rescue Services.
HSHS St. Vincent Children's Hospital has a dedicated team of pediatric intensivists who make sure you are involved and aware of what's going on every step of the way when your child is hospitalized. We also work with local and regional primary care doctors to make sure your child's doctor is updated and involved in your child's care plan to ensure seamless care with ongoing communication and collaboration.