Dan Hecht makes donation to support breast cancer survivors
December 22, 2022&nbsp
//&nbsp
Cancer Care, Women's Health, Hospital News
HSHS St. Anthony's Foundation recently received a $1,775 donation from Dan Hecht Chevrolet Toyota for the Real Men Wear Pink campaign in October for breast cancer awareness. The donation will go towards HSHS St. Anthony's Women's Wellness Center to support local breast cancer patients and enhance their overall experience during their cancer treatment.
Members of the Dan Hecht team and HSHS St. Anthony Memorial Hospital are shown at the recent check presentation. Front row, left to right: Tammy Lakin, customer relations manager; Mary Burrell, sales consultant; Bob Hecht, owner and Toyota sales manager; Ashley Davis, St. Anthony's Women's Wellness nurse navigator; Jim Hecht, owner and general manager; Barb Rieman, bookkeeping; Kathleen Morgan, receptionist; and Mary Travous, BDC representative. Second row, left to right: Annie Wendt, cashier; Michael Wall, St. Anthony's director of philanthropy; Chad Markham, St. Anthony's president and CEO; Lori Worman, internet sales manager; Tina Jameson, bookkeeping; Jerry Hecht, owner and CFO; and Nancy Moeller, title clerk.
The funds were raised through multiple events hosted in October by Dan Hecht Chevrolet Toyota and their employees to support Breast Cancer Awareness Month. This year, the events included a "Think Pink" Donut Day with Dollies Donuts, the annual "Think Pink" Souper Luncheon and "Think Pink" Fridays, where employees made a donation to wear jeans on Fridays in October.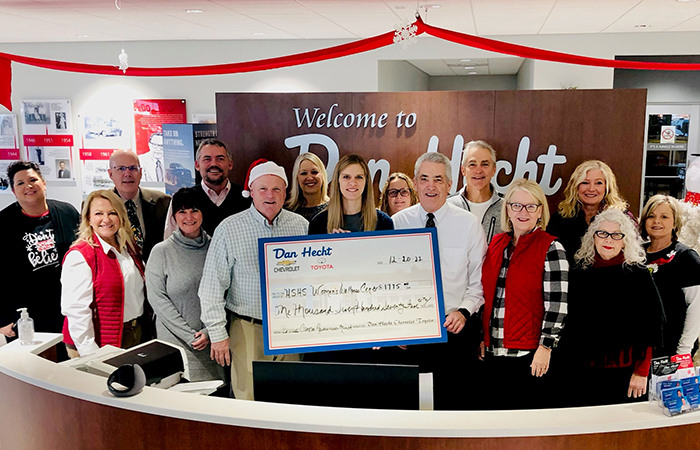 Media Contact
Ashley Gramann
HSHS Illinois Communications Manager