Dedicated volunteer honored by renaming of Gift Shop
March 08, 2023&nbsp
//&nbsp
Hospital News
HSHS St. Anthony's Memorial Hospital recently held a ceremony to honor one of their most dedicated volunteers.
Those who visited HSHS St. Anthony's Memorial Hospital's Gift Shop over the last few decades may remember a familiar face that frequently served there, Rose Boggs. Boggs was a devoted volunteer who was a member of the hospital Auxiliary organization for over 20 years and was a past president of the volunteer organization. Most notably, Boggs dedicated over 40,000 hours of her time supporting the HSHS St. Anthony's Auxiliary and specifically the gift shop as buyer and coordinator.
Rose Boggs passed away on Nov. 25, 2021, but will not soon be forgotten. In honor of her exemplary contributions to the Auxiliary and the hours of dedication she put into the gift shop, HSHS St. Anthony's administration recently held a ceremony on March 8 (Rose's birthday) to rename the Auxiliary Gift Shop, now called Rose's Corner. The small ceremony and unveiling was attended by members of Boggs' family, Auxiliary members and representatives of hospital administration.
Valerie Engelbart, volunteer and bereavement supervisor, shared, "Rose was a mainstay of the hospital Auxiliary and gift shop for so many years. She gave so much of her time to making sure that the gift shop was stocked and open for visitors and colleagues. She is dearly missed, and we just wanted to do something to honor her outstanding service to the hospital."
Levi Boggs, Rose's husband, shared what the renaming meant to him and his family. "We are so proud of Rose's service to the Gift Shop. She loved being here. We appreciate that the hospital is honoring her in this way so her legacy can carry on," he said.
The Auxiliary Gift Shop, Rose's Corner, is completely staffed by Auxiliary volunteers and all proceeds go into the Auxiliary general fund to help fund renovations and purchase new technology for the hospital.
In addition to Rose being honored with the Gift Shop's renaming, her legacy of service is also recognized in the hospital's Healing Garden with two stone pavers. The first one was placed by the Auxiliary in recognition of her achieving 30,000 hours of service in 2010. The second was placed in loving memory of Rose by a family member. Those interested in learning more about placing a paver on the hospital campus to commemorate a birth, "in memory of…," anniversary or your family name may contact Michael Wall, director of philanthropy, at Michael.Wall@hshs.org or call 217-347-1854.
Photo Caption: Members of the Auxiliary leadership and Levi Boggs gather at by the gift shop after the ceremony. Shown left to right: Valerie Engelbart, volunteer and bereavement supervisor, and members of the Auxiliary Executive Committee Marilyn Schaefer, Kathern Upchurch, Donna Zerrusen, Karen Wendt, (Levi Boggs) and Mary Jane Koester.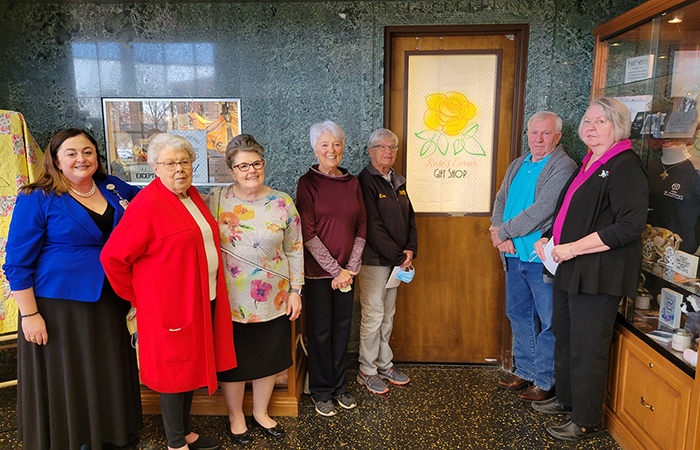 Media Contact
Ashley Gramann
HSHS Illinois Communications Manager