2nd Annual Youth Adaptive Try-athlon set for Sept. 16
HSHS St. Anthony's Rehabilitation and Wellness invites community members to the second annual "Meet Me at the Finish Line" Youth Adaptive Try-athlon on Saturday, Sept. 16 starting at 9 a.m. at the Richard E. Workman Sports and Wellness Complex.
Open to athletes 18 and under, the adaptive try-athlon as a fun and challenging event for kids overcoming physical challenges. These young athletes will swim, bike and run in this three-event race that not only promotes fitness, but improves self-confidence as participants cross the finish line on their own. Each athlete will have a buddy by their side every splash, pedal and step of the way. Adaptive equipment and bikes will be available so all can participate.
Athletes will complete in a 30-minute heat with seven other athletes to give plenty of space for each athlete. There will be five heats in all, kicking off every half hour. The first heat starts at 9 a.m. with check-in at 8 a.m. Check-in for each successive heat will be 30-45 minutes before the heat begins. There is a limit of 40 participants.
Those who have child who would like to participate in the try-athlon can visit eventbrite.com and search "try-athlon" to find the "Meet Me at the Finish Line Youth Adaptive Try-athlon" in Effingham to register your child. The registration link is also available at stanthonyshospital.org/try-athlon.
Physical Therapist Alex Kastl, PT, DPT, coordinated the inaugural event last year and is excited to be growing the event this year. "Last year was a tremendous success and we look forward to this year being even better," he said. "The look of joy on the kids' faces as they crossed the finish line and received their medal is hard to beat."
HSHS St. Anthony's Director of Rehab and Wellness Tammy Probst invited the community to come out to join in the festivities. "Even for those who don't have a child participating in the event, we welcome anyone to come watch and cheer on the kids to make the day even more special. It truly in an inspiration to see them throw their hearts and souls into competing in this event that they normally wouldn't be able to do like other children." There will be other fun
If you have questions about the event, contact Tammy Probst at Tammy.Probst@hshs.org. For more information about HSHS St. Anthony's "Meet Me at the Finish Line" Youth Adaptive Try-athlon, visit stanthonyshospital.org/try-athlon.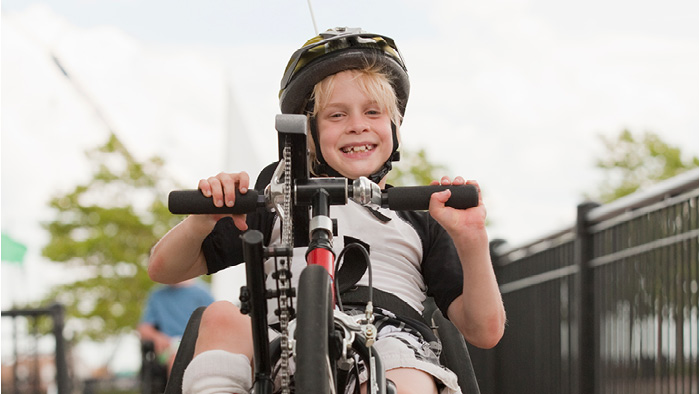 Media Contact
Ashley Gramann
HSHS Illinois Communications Manager