Renovated cardiovascular intensive care unit blessed
HSHS St. John's Hospital recently completed the renovation and expansion of its intensive care unit (ICU) and cardiovascular intensive care unit (CVICU). The multi-year, $17.2 million project was completed by O'Shea Builders and resulted in 28 new ICU patient rooms, with a net addition of ten CVICU and six ICU rooms. With new and existing rooms, St. John's now has 64 intensive care patient beds. The renovation encompassed 28,100 square feet.
"These state-of-the-art, beautifully updated units and expanded, airy rooms will be more comfortable and user-friendly for patients, visitors and colleagues," said Polly Hohenbery, BSN, RN, director of adult critical care services at St. John's. "Despite a global pandemic, the project stayed on track, as we kept the needs of future patients in mind. We look forward to providing care in this new space."

The units were blessed by Father Ramesh Matta, St. John's priest chaplain, at a ceremony and unveiling held for hospital leaders, staff and media this morning.

The design phase of the project began in August of 2019 and construction began in May of 2021. The design centralizes ICU locations and nurses to one floor, creating efficiencies and improved workflow. All updated patient rooms were modernized and enlarged, enhancing the patient and visitor experience with more amenities, and expanding workspace for staff.
"It's all about patient care," said Matt Fry, St. John's president and CEO. "Enhancing and improving the use of space for families and colleagues is so important to creating a better healing environment. More natural light, larger waiting areas and rooms, closer supply rooms, additional bathrooms – all these details improve comfortability and care for our patients, families and colleagues."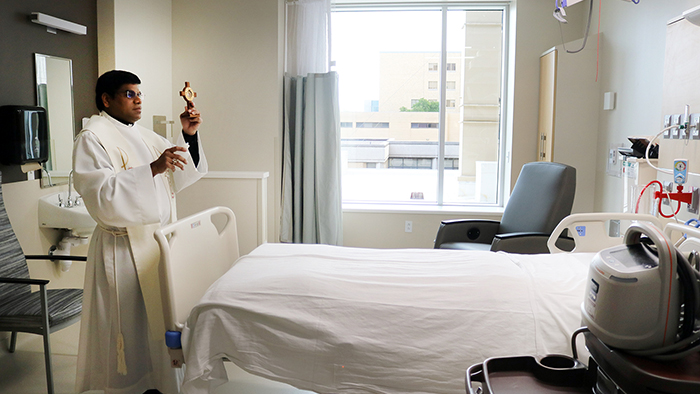 Media Contact
Jennifer Snopko
Marketing and Communications Manager