Cancer Center first to offer new technology locally
In a promising development for cancer patients in Springfield, Ill. and surrounding areas, HSHS St. John's Cancer Center recently installed the Edge™ system for high-precision radiosurgery, a non-invasive alternative to traditional surgery.
The Edge radiosurgery system, which was developed by Varian Medical Systems, accurately targets tumors and other abnormalities without an incision or the need for recovery in a hospital setting. Its precise beam can accurately target tumors of the brain, spine, lung, and other areas that are typically difficult to treat surgically.
HSHS St. John's Hospital is the first cancer treatment center in the region to offer this advanced technology and state-of-the-art equipment.
"I am so happy we can now offer this technology to patients in our community," said Daniel Ferraro, MD, PhD, a radiation oncologist at the Cancer Center. "The Edge system will increase patient comfort, reduce the need for invasive procedures, and increase accuracy of treatment. At the end of the day, it's all about offering the most comfortable and convenient solutions to our patients." Dr. Ferraro says the system has opened the possibility for some cancers – specifically prostate, breast and colorectal cancer – to be treated in only a few sessions and will remove the burden of further travel for shorter treatments for many patients in the region.
The Edge system delivers radiosurgery treatments quickly while monitoring and compensating for motion using advanced imaging and real-time motion tracking technologies. The system incorporates Varian's Calypso® "GPS for the Body" system for tracking tumor position in real time. Even tumors that move when a patient breathes, for example, those in the lung or breast, can be precisely targeted due to special tools that compensate for motion throughout a treatment. The system also can alert clinicians if a patient has moved in a way that could compromise treatment accuracy. A sophisticated treatment couch with six axes of motion enhances treatment precision by providing additional angles for targeting tumors.
St. John's Cancer Center Director Chad Crane noted, "This system offers cancer patients a fast, effective surgical option without an incision and offers surgeons the mobility to treat tumors that are typically difficult to reach surgically."
The Edge system can complete these sophisticated treatments in just a few minutes per day. Now, a complex radiosurgery that typically takes 30 to 60 minutes can usually be completed in less than 15 minutes, increasing patient comfort, and reducing the opportunity for movement during treatment.
Dr. Ferraro provides the best care to his patients and has several family members who had cancer and sometimes had to travel to Mayo Clinic for treatment. "One of my goals is to be able to give the equivalent care that you would get in a large, metropolitan area right here, in our convenient and accessible environment. I know how hard it is for patients and their support people to get back and forth when care is far from where they live," he said.
For more information on the Edge system visit here.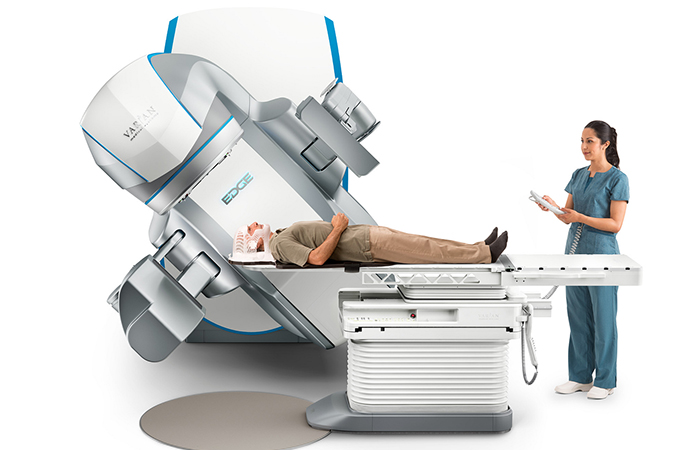 Media Contact
Jennifer Snopko
Marketing and Communications Manager