Intensive Care Unit (ICU)
Specialized life-saving care. The Intensive Care Unit is for patients who require very close observation and intensive nursing care around-the-clock.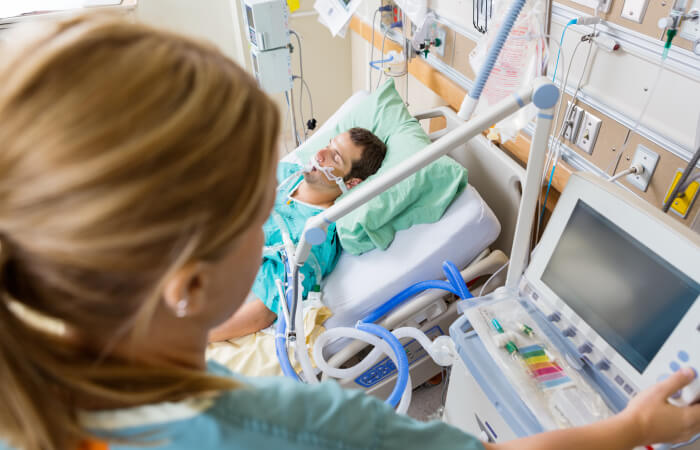 Your loved one is in the Intensive Care Unit (ICU) because he or she needs highly specialized medical care. ICU patients are constantly monitored. Many are on ventilators to help them breathe, and many are unconscious. A quiet environment with minimal disturbances is important for healing and recovery.
For these reasons, the ICU has certain policies and procedures that don't apply to other areas of the hospital but are necessary for the safety and health of your loved one.
More information about the ICU
We recommend that children under the age of 16 do not visit the ICU. Children's immune systems are not as mature as those of adults, which makes them more vulnerable to infection. In addition, young children may become upset and confused when they see a loved one in critical condition. If you feel it is important to bring a child to the ICU, please let the nursing staff know. Children under 12 must be with an adult at all times.
Visiting hours are open throughout the day.
Number of visitors for each patient is limited to two at any given time and they may be asked to leave the bedside during change of shift report.
After 8 pm, no more than two visitors per patient may remain in the ICU Visitors Lounge.
Hand washing is the single most important measure you can take to control infection in the ICU. Please wash your hands using soap and water or the water-less hand washing solution provided in the module before entering and after leaving patient rooms.

If your loved one requires special isolation, you will be required to wear protective coverings, including a gown, gloves and/or a mask. Staff will be happy to assist you.
The attending physician is the best person to answer questions. Federal regulations governing patient privacy prohibit St. John's from releasing patient information over the telephone. If you have any comments or concerns, contact
217-544-6464
for the ICU charge nurse at ext. 2047542; or the unit supervisor at ext. 2044426.
More Intensive Care
Medical Surgical Intensive Care Unit (ICU)
Neonatal Intensive Care Unit (NICU)
Pediatric Intensive Care Unit (PICU)